Trade Day 2018
May 17, 2018 @ 5:00 pm

-

May 18, 2018 @ 2:30 pm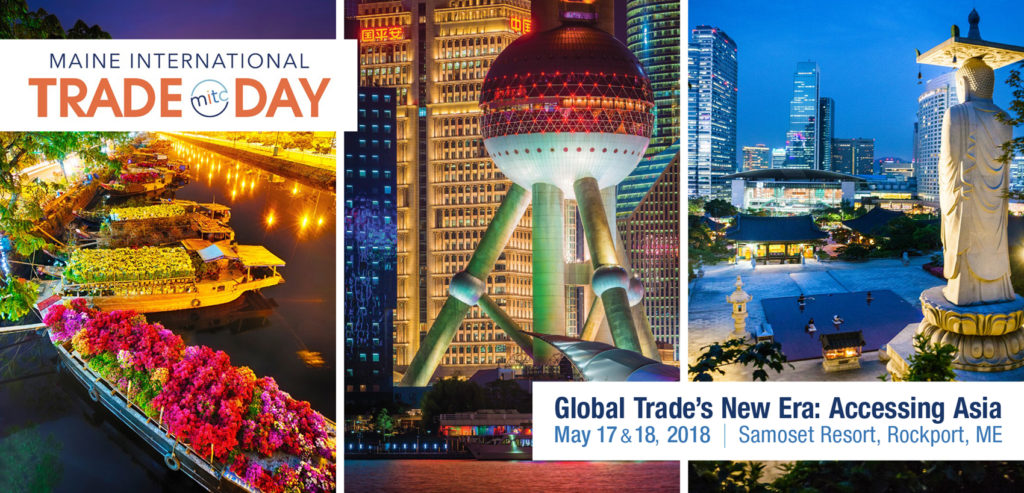 The new era of global trade will be defined by increasing flows of data and information. Approximately 12% of the global goods trade is conducted on international e-commerce platforms such as Alibaba, Amazon, and eBay. In addition, nearly 50% of the worlds traded services are already digitized. While regionalization and protectionism may impact global trade in the short-term, other influences including technological innovation and improvements in logistics will continue to advance globalization. Companies with the long-view will remain committed to international business.
Asia accounts for about one-third of global trade. China and Japan are the second and third largest economies in the world, respectively. The predicted pace of growth in Indonesia, Vietnam, and the Philippines make these emerging markets to watch. Much as the establishment of the European Union resulted in a large increase in trade within Europe, increased connectivity and integration among Asian economies will have a similar effect over the coming decade.
Asia is Maine's second leading export market after Canada, purchasing almost $800 million of the state's products in 2017. Navigating changing trade policies and unfamiliar business cultures can make a long-term regional strategy especially challenging yet more important than ever. Join us at Trade Day 2018 as we discuss these and other issues to help your business find its way in the Asian market.
Event Schedule
Thursday, May 17
5:00 – 7:00
Opening Reception
Friday, May 18
8:30 – 9:00
Registration/Continental Breakfast
9:00 – 9:45
Welcome & Keynote Presentation
Global Trade's New Era: What It Means for Maine
Maine Governor Paul R. LePage (invited) and Wade Merritt, President of Maine International Trade Center and State Director of International Trade
9:45 – 10:30
Panel Discussion
Accessing Asia: Risks and Rewards
Panelists:
Adam Kennedy, Kepware Technologies
Brian McNamara, Southworth International Group, Inc.
Annie Tselikis, Maine Lobster Dealers' Association
Kristin Vekasi, University of Maine
10:30 – 10:45
Break
10:45 – 12:00
Networking Session and New Product Global Showcase
Passport Prize Drawing:  The Samoset Resort has generously donated dinner for two and an overnight stay! To enter the drawing for this fabulous prize, simply collect at least 10 stamps on your passport. We'll be handing out passports as you enter the Networking Session. You'll receive one stamp for each exhibitor that you visit. The lucky winner will be announced during the awards luncheon.
New Product Global Showcase – Attendees will vote for the "Best in Show" new product winner from:  Bristol Seafood, Caron Engineering, Dirigo Food Safety, Planet Dog, Rogue Wear, Yale Cordage/Resin Fiber
12:00 – 2:30
Annual Awards Luncheon
Exporter of the Year – Maine Coast
Innovator of the Year – Fiber Materials, Inc. (FMI)
Service Provider of the Year – Planson International
Foreign Direct Investor of the Year – International Grand Investment Corp. (IGIC) / St. Croix Tissue
President's Award – Muriel Mosher, President of Maine Manufacturing Extension Partnership
Future Global Leader Award – Jeff Cuartas
---
Advance registration is now closed.
Walk in registration will open at 8:30 AM on Friday, May 18th.
---
Special Rate for Lodging
Samoset Resort has been a legendary retreat for over 100 years. World-class accommodations feature balconies or terraces, overlooking the ocean or spectacular gardens, and complimentary wireless high speed Internet access. To receive a special discount rate of $152-$169, call 800-341-1650 before April 17th and mention Trade Day 2018 or reserve your room online. (After April 17th, the special discount rate will apply on a space available basis.)