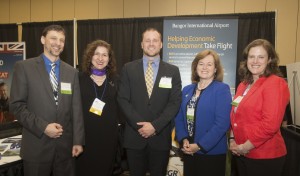 Sponsorship provides a unique targeted way to connect with the international business community in Maine and beyond to promote your business and services.  MITC offers a variety of sponsorship options to meet your marketing objectives and fit your budget.
If you are looking for a way to gain valuable brand exposure with Maine's internationally active businesses and institutions, we welcome a conversation about your goals to discuss which sponsorship option is the best fit.
Sponsorship opportunities include:
Canada Desk
Trade Education Forums (multiple levels, some exclusive)
GlobalView Newsletter
Maine International Trade Day (multiple levels, some exclusive)
Member Networking Events – Summer and Holiday
Overseas Trade Missions
Website
For more information about available sponsorship opportunities, please contact Zeynep Turk at 207-541-7474.