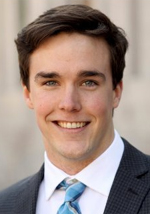 Director of Defense Industry Maine and International Trade Specialist
207-553-7708 or Email
Tom Conley is a Trade Specialist for Maine International Trade Center and works with the advanced manufacturing sector, such as aerospace, composites, and defense. He has extensive experience with Canadian affairs and previously worked for the Office of Canadian Affairs at the U.S. Department of State in Washington DC, the U.S. Embassy in Ottawa, and for a member of the Canadian Parliament.  In addition, he has worked for a member of the U.S. House of Representatives.
A Maine native, Tom earned a B.A. in Political Science from the University of Maine at Orono, a Certificate of International Studies and French Language from the University of Geneva in Switzerland, and a M.A. in Political Science and International Relations from McGill University in Montreal. Tom serves as a member of the Board of Directors for the World Affairs Council of Maine and volunteers at the Animal Refuge League of Greater Portland.