Arctic Circle Assembly 2019 Maine Delegation
October 10, 2019

-

October 13, 2019
Harpa Concert Hall and Conference Centre, Harpa Reykjavík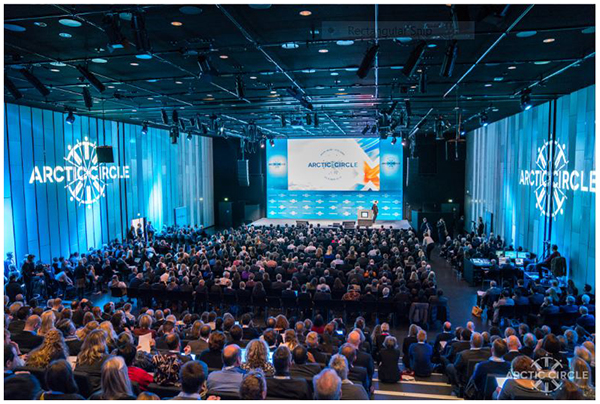 Join the Maine delegation at the largest international Arctic event!
With more than 2,000 participants from 60 countries, the Arctic Circle Assembly is held every October in Reykjavik, Iceland. Attendees include heads of state, government ministers and officials, members of parliament, expert research scientists, business leaders and entrepreneurs, environmentalists, indigenous representatives, students, and others in the growing international community interested in the future of the Arctic.
For the sixth year, MENADO is organizing a Maine delegation to participate at the Arctic Circle Assembly.
Join us for value-added group events organized for Maine participants in and around Reykjavik:
Participate in meetings with delegations from Greenland, Scotland, and Finland
Attend a Maine Networking Reception and tour of Eimskip headquarters
Support fellow Mainers presenting in a number of Arctic Circle Assembly breakout sessions and workshops
Expand your network and knowledge of Arctic issues
To attend the Arctic Circle Assembly, you will need to register for the event. The Arctic Circle Secretariat is holding hotel rooms throughout the city, and you will arrange for your own hotel accommodations when you register for the event.
There is no charge to participate in group events for the Maine delegation; however, sponsorship opportunities are available to help underwrite Maine's special activities and highlight your organization. To learn more about sponsorship opportunities, contact Julia Munsey, Director, Membership and Corporate Development.
---
JOIN US!
Register for the Arctic Circle Assembly and reserve your hotel room.  https://icelandtravel.artegis.com/event/Arctic_Circle_2019
Let us know you're going; we'll send you Maine delegation information and updates leading up to the event.  REGISTER FOR MAINE DELEGATION
---
Arctic Circle Assembly participants are advised to arrive in Reykjavík on Wednesday, October 9 in order to participate in morning Sessions on October 10. Following the Assembly on October 10-12, participants will have the opportunity to participate in Arctic Circle Assembly-organized Thematic Excursions on the clean energy revolution, 21st-Century sustainable fisheries, extreme weather infrastructure, and glaciology on Sunday, October 13.
For more information, contact Dana Eidsness, Director, Maine North Atlantic Development Office (MENADO).