Arctic Frontiers Maine Delegation 2019
Explore Business Development and Partnerships in Tromsø, Norway!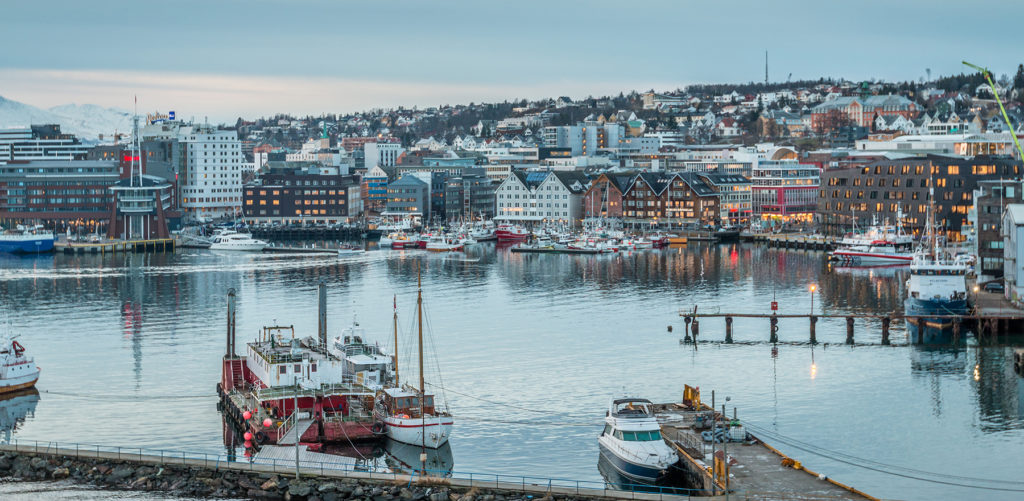 Heading to the Arctic Frontiers conference in January? Join MENADO's Maine delegation in Tromsø, Norway supported by our partners from the Norwegian Institute of Food, Fisheries and Aquaculture (Nofima), the Fram Centre (FRAM – High North Research Centre for Climate and the Environment), and Troms County Council.
Arctic Frontiers runs from January 20-24 and brings academia, government, and businesses together to create a foundation for decision making and sustainable economic development in the Arctic. Maine has had a presence at Arctic Frontiers for four years, and Maine North Atlantic Development Office (MENADO) delegations have used the event to build networks and partnerships throughout the Arctic and grow Maine's economic and academic connections in Tromsø.
MENADO has arranged for meetings and visits with two key partner organizations in Tromsø around the Arctic Frontiers 2019 event:
In early 2018, MENADO and partners hosted the Managing Director of the Norwegian Institute for Food Fisheries and Aquaculture (Nofima) from Tromsø, Norway in Maine to discuss the potential to utilize Nofima's bioprocessing facility, research and resource utilization expertise to fast-track materials and product development in Maine's blue economy sector. This visit will include a tour of Nofima's Biotep bioprocessing facility and a presentation to give participants a hands-on view to understanding how a Maine company can work with Nofima. Biotep is a flexible mini-factory where companies can test and optimize their processes to extract all desired components from marine- and plant-based biomass. (Want a private meeting at Nofima/Biotep? Contact Dana Eidsness.)
Fram Centre is the short name for FRAM – High North Research Centre for Climate and the Environment. The Fram Centre is based in Tromsø and consists of about 500 scientists from 21 institutions involved in interdisciplinary research in the fields of natural science, technology, and social sciences. The Fram Centre is an important arena nationally, as well as internationally, with inputs on climate-related issues. Fram Centre members include the Centre for International Climate Research, the Institute of Marine Research, SINTEF Group, and the Norwegian Institute for Bioeconomy Research. What can we learn from these institutions? How can we collaborate on research towards common goals? Join MENADO for a meeting and tour at the Fram Centre to be introduced to members of this important network.
Sample Itinerary
Friday, January 18: Travel Day
Saturday, January 19: Arrival/evening group activity
Sunday, January 20: Nofima/Biotep meeting and tour/Arctic Frontiers Opening Reception
Monday, January 21: Arctic Frontiers breakout sessions/Arctic Frontiers Reception
Tuesday, January 22: Fram Centre meeting and tour/ Arctic Frontiers breakout sessions
Wednesday, January 23: Arctic Frontiers breakout sessions/Arctic Frontiers Reception/Arctic Frontiers PechaKucha
Thursday, January 24: Arctic Frontiers breakout sessions/Arctic Frontiers Business Matchmaking (energy, shipping, renewable energy focus)/evening departure for Maine
Costs
Arctic Frontiers Conference:  Visit www.arcticfrontiers.com for more information and to register. Note that you will be able to register for conference sessions and side events/receptions separately, in order to customize a schedule to fit your interests and needs. You can book your hotel through conference registration. Most Arctic Frontiers attendees stay at the Clarion or at the Radisson Blu Waterfront.
Maine Delegation Business Schedule:  MENADO is coordinating value-added meetings for Maine companies and institutions around the Arctic Frontiers Conference at no cost to Maine delegation members; however, participants will need to provide their own ground transportation to these meetings. All delegation members will be requested to complete a brief, post-trip survey for metrics collection purposes.
Participants are responsible for their own travel, accommodations, Arctic Frontiers Conference registration, and meal expenses.
---
Eligible Maine businesses may receive reimbursements for Arctic Frontiers conference registration expenses through MITC's STEP Financial Assistance Awards.
---
Enjoy the Arctic Frontiers conference and value-added meetings during the day and the Northern Lights in the evenings in beautiful Tromsø, Norway – 217 miles above the Arctic Circle – sometimes called the Paris of the North or the Gateway to the Arctic!
Join the Maine delegation using the link below.
---
For more information, contact Dana Eidsness, Director, Maine North Atlantic Development Office (MENADO)