Maine International Trade Day 2016
May 26, 2016 @ 12:00 pm

-

7:00 pm
Holiday Inn by the Bay, Portland, ME
#TradeDay2016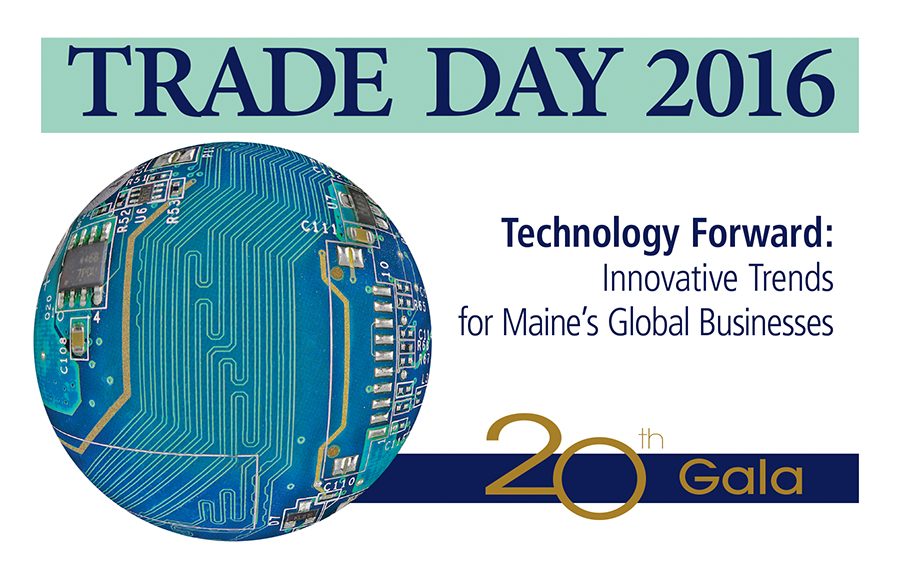 The future of both Maine's manufacturing and service sectors depends on integrating new innovative technologies. Whether incorporating big data in our marketing strategies or developing advanced robotics in our production lines, Maine business leaders must embrace new systems to compete in today's global economy. Maine International Trade Day brings together experts in the ecommerce, robotics and advanced materials fields to discuss new technology and trends in key sectors to improve our overall productivity and efficiency. As we celebrate MITC's 20th anniversary, Trade Day 2016 will feature an exciting line up of speakers and workshops that we hope will ignite new ideas, spark new collaborations, and build on the many creative capacities in Maine.
---
View and Download Presentations
Strategic Intelligence Liz Graham Keynote Presentation
Data Analytics Workshop – Heather Johnson
Data Analytics Workshop – Torey Penrod-Cambra
Manufacturing Automation Workshop – John Doxsey
Manufacturing Automation Workshop – Jonathan Robertson
Manufacturing Automation Workshop – Forest Wentworth
---
Event Schedule
12:00
Welcome & Keynote Presentation
Liz Graham, Vice President of Sales and Service, Wayfair
Liz Graham from the Boston-based online home furnishing store Wayfair will share the story of the company's explosive growth from what started in 2002 as two college friends' "business idea" to a $2.25 billion success story. Now offering millions of products with operations throughout North America and Europe, Wayfair is quickly developing globally. Liz will discuss some of Wayfair's data-driven growth processes and share her vision on the future of e-commerce and strategic intelligence in an increasingly technology-oriented consumer marketplace.
12:40
Annual Trade & Investment Awards Luncheon
Exporter of the Year – Kepware Technologies
Innovator of the Year – Mt. Blue Campus
Service Provider of the Year – Allen Insurance & Financial
Foreign Direct Investor of the Year – Eimskip
President's Award – Adrian Kendall, Esq., Honorary Consul of the Federal Republic of Germany, Norman, Hanson & DeTroy, LLC
Future Global Leader Award – Joe Long
2:45
Concurrent Workshops
Future of Global Manufacturing – Automation and Robotics
Moderator: John Karp, Karp Strategic Consulting and Maine MEP
John Doxsey, Texas Instruments; Jonathan Robertson, Lanco Integrated; Forest Wentworth, Maine MEP/Advanced Manufacturing Center, University of Maine
Attracting and Developing Maine's Next Workforce
Ryan Wallace, Maine Center for Business and Economic Research, University of Southern Maine; Steve Westra, Maine MEP; Ed McKersie, Live + Work in Maine
Using Data Analytics to Know Your Global Market/Customer
Torey Penrod-Cambra, Kepware Technologies; Heather Johnson, Diversified Communications
4:00
Global Adventures (and Misadventures) – Special Event in Cooperation with Maine Center for Creativity and PechaKucha Portland
"Mapping the Route:  Bicycling Across Russia and Central Asia."  Lucy Sommo
"What happens throughout history when your ship splits in half and both halves catch on fire?"  Dan Bookham
"They Say You Can Never Go Back, But Almost Everything They Say is Wrong."  Jeanne Hulit
"That Which Does Not Kill Us Makes Us Stronger."  Bob Maynes
5:00
Black, White & Gold – 20th Anniversary Gala – Business Attire (wear something black, white, and gold)
Cash bar, hors d'oeuvres, and live music from The Wayouts with special guest George!
New Product Global Showcase: Bixby & Co.; Flowfold; Nature et Luxe; Tube-Works; Yale Cordage, Inc.; and Zootility Tools
 Photo booth with Globey!
7:00
Conclude
---
Advance registration is now closed.
Walk-in registration will open at 11:30 AM on May 26th. 
MITC Members:  $75 per person     Non-members:  $95 per person
---
Lodging Special Rates
Maine International Trade Center has special discount rates for 2016 with these two downtown Portland hotels:
Courtyard by Marriott – Portland Downtown/Waterfront
321 Commercial Street
(207) 780-6000
$154
Portland Harbor Hotel
468 Fore Street
(207) 775-9090
$129
Be sure to mention Maine International Trade Center to receive our discount rate!
---