Trade Opportunities in Africa: Virtual Mission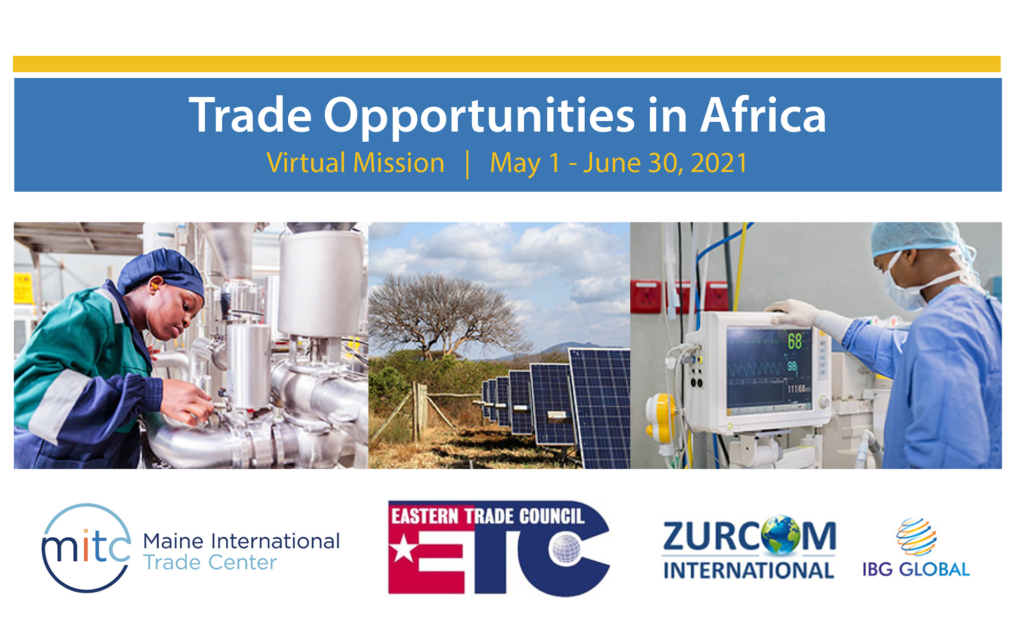 Africa, a continent of over 1.3 billion people, includes many of the fastest growing economies on earth (6 of the top 10). The African Continental Free Trade Area is the world's largest common market by geographical size and soon by population. Africa is on trajectory to supersede China in demographic growth by 2023 and is expected to double its population in the next 30 years. Companies not engaged in the African markets risk losing out on one of the 21st century's great growth opportunities.
Join MITC and ETC for this virtual mission to make the right connections for the African market!
MISSION HIGHLIGHTS
Continent-Wide Networks:
Based in South Africa, Zurcom International has extensive networks all over the continent and will find the best business matches for your industry. The virtual mission, unlike an in-person trade mission, need not be limited to one or two countries. Mission participants are guaranteed a minimum of 4 pre-vetted, pre-qualified matchmaking meetings.
Targeted Industries:
Healthcare/Medical Devices/Hospital Architecture

Education (tech platforms)

Information Technology

Mining/Energy Equipment/Technical Services

Agricultural Technologies

Water/Energy Systems

Veterinary Services
COST & ELIGIBILITY
MITC Members: $3,500 per company
Non-members: $4,500 per company
Must be an export-ready, small to medium sized U.S. company seeking to export goods of U.S. origin or that have at least 51% U.S. content to participate.
---

STEP Financial Assistance Awards are available for SBA-eligible Maine companies seeking new international sales with reimbursement up to $6,000.  LEARN MORE
---
Registration Deadline: May 15, 2021
For more information, contact Zeynep Turk, Senior Trade Specialist, Maine International Trade Center, at (207) 541-7474.