Auburn Manufacturing, Inc. (AMI) specializes in designing and manufacturing extreme temperature textiles used in industrial maintenance, repair, operations, production and energy savings. The company has 50 employees and two manufacturing facilities located in Maine in Mechanic Falls and Auburn. Last year, the Auburn facility was expanded to 53,000 square feet and includes a container loading dock for ocean freight shipments. AMI products are used in a number of industries including shipbuilding, petroleum, power generation, mining, and metal manufacturing. A long-time MITC member, AMI is certified as a Women's Business Enterprise by the Women's Business Enterprise National Council.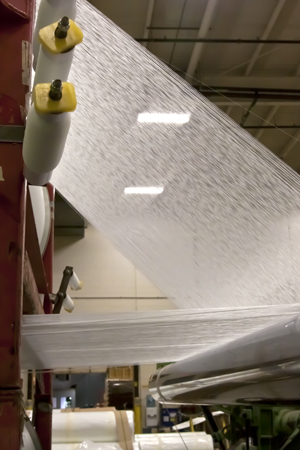 As an industry leader in its field and a significant Maine manufacturer, Auburn Manufacturing, Inc. (AMI) has continued to thrive throughout 2014. The company's overseas markets have grown in Asia, Australia, and Latin America. AMI's high heat insulation fabrics are being used in welding projects across various industries: shipbuilding in South Korea, mining in Australia, and a range of industrial sectors, such as automotive and petroleum, in Mexico.
"We've had significant growth this past year in Latin America where we are setting up distribution in Brazil and Chile and have a strong partner in Mexico," Kathie Leonard, President of AMI, comments. "MITC has worked with us closely in these countries, providing market overviews, trade assistance, and setting up meetings with potential importers/distributors during the Trade Center's State of Maine Trade Mission we participated in."
In 2014, AMI began working with MITC's Maine North Atlantic Development Office (MENADO) to explore international markets for their newest product, Ever Green Cut 'n Wrap insulation. This modular insulation kit covers bare HVAC pipe components, saving on energy costs and reducing carbon emissions. Ever Green Cut 'n Wrap blankets were installed on the University of Maine's forced hydronic system in a pilot program that produced immediate heat loss savings. Additional installations have been made at over 100 facilities in the Northeast and elsewhere as institutions strive to improve their energy efficiency. The product is well-suited for Iceland, Scandinavia, and potential Northern European markets where energy costs are significant.