Grover Precision is a leading provider of precision seamless cannulated bar, gundrilling, deep-hole drilling, honing, and related machining and support services to a broad range of markets throughout the United States, Canada, and Europe. The company specializes in difficult applications in defense, aerospace, medical, and oil & gas markets. Products include cannulated bar, seamless precision tubing, custom tubing, honed tubing, and thick wall tubing in lengths up to 12 feet.

Founded in 1983 by Rupert and Suzanne Grover as a family-owned contract gundrilling company in Oxford, Maine, the company has 70 employees, and 20% of their sales are international. Their strongest export markets are Germany and the United Kingdom. In 2019, Grover Precision decided to focus their strategy for international business growth in two sectors: medical and aerospace.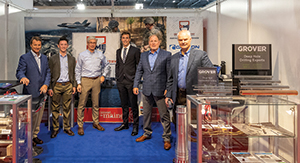 The company began working with our Defense Industry Maine (DIME) initiative and received OEA grant funds to help achieve ISO 9001, AS9100D, and ITAR certifications with a goal of targeted 20% growth as a result.
In order to expand sales into new segments within existing markets, Grover Precision exhibited in MITC organized booth space at two top international trade shows: Defense & Security Equipment International in London, United Kingdom and MEDICA 2019 in Düsseldorf, Germany. The company received STEP Financial Assistance Awards to help cover costs. These trade shows allowed the small Maine company to introduce their aerospace landing gear, pistons, and rotating parts and Turn-Key Tubing for medical implants and instruments to a global market.
"MITC – and specifically Zeynep – was extremely professional. She helped us manage the booth, helped bring people to the booth, and set up networking events for all members of our group. We'll be working with MITC again in the next year, because it was such a great experience…a simple and seamless process for Grover."  – Grant Niewinski, Director of New Business Development