Ready Seafood is a family-owned business founded in 2004 by John and Brendan Ready. By the time they were 9 years old, John and Brendan were each harvesting lobsters from their own boats and traps. After spending years on the water, John and Brendan have great respect for the ones who work the sea. Today, Ready Seafood, located on the working waterfront of Portland, ME, has grown to over 50 employees. John and Brendan have also launched two other companies: Catch a Piece of Maine, offering fresh Maine lobster direct to consumers, and Maine Seafood Ventures, providing frozen lobster products to customers around the world.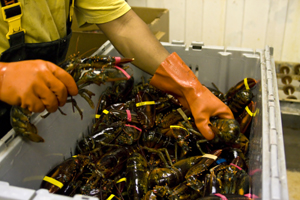 Ten years ago, John and Brendan Ready had to decide between paying rent for an apartment or leasing new warehouse space on the Portland waterfront. They chose to pay for warehouse space, both living and working there. In 2014, their business is a multi-million-dollar international lobster enterprise.
"It's hard to believe it's been 10 years since we were sleeping on those bunk beds on Hobson's Pier," Brendan Ready said. "It's been 10 exciting years for John and I."
The Portland waterfront facility holds over 300,000 pounds of live lobsters, and the company ships millions of pounds annually all over the world. In addition to their live operations, Ready Seafood offers a global supply of whole frozen lobster through Maine Seafood Ventures.
"The global market is constantly growing, providing us with great opportunities," Brendan
explained. "Initially, we shipped to just a few countries. Today, the international market accounts for over 70% of our business."
A frequent participant in MITC overseas activities, Brendan has worked with MITC in efforts to expand international markets in the Far East, the Middle East, and in Europe.