In 2015, Thornton Academy, an independent school in Saco, was awarded the highly prestigious President's "E" Award — the first Maine organization to receive the honor in more than 32 years.
A founding member of MITC's StudyMaine initiative, Thornton Academy received the award in recognition of its international student program, currently home to more than 150 international students from 20 countries. The StudyMaine initiative is a consortium of Maine high schools, colleges, and universities that showcases the excellent academic programs and extracurricular opportunities available in Maine educational institutions and assists international students in finding the right match for their interests and ambitions.
Jeffrey Porter of the U.S. Commercial Service nominated the school for the award, which was created by President Kennedy in 1961 as the highest recognition any U.S. entity can receive for making a significant contribution to the expansion of U.S. exports. In the case of Thornton Academy, the export is the provision of an American high school education.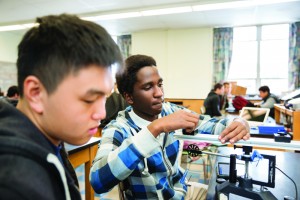 Thornton Academy has been active with MITC and StudyMaine since the launch of its international student program in 2008. The school has been an active participant in education and gubernatorial missions abroad and has helped shape the focus of StudyMaine.
"We're very excited to receive this award," said Mark Powers, Director of Admissions at Thornton Academy. "The collaboration between Thornton and MITC has been extremely meaningful over the past few years, as we've worked together to further Maine's global presence."
"We're delighted that Thornton has been recognized for internationalizing its campus," said Lucy Sommo, who runs the StudyMaine program at MITC. "Thornton has been a leader in international student recruitment in the state. The school has been very active in seeking out new markets and supportive of developing Maine's international student population for the good of the entire state."
In addition to the tuition revenue and 38 new jobs created by the international student program, Thornton Academy believes strongly that the academic and cultural benefits for all students have been significant. The school has the largest selection of AP courses in Maine, new science laboratories, a precision machine and tool curriculum, and a School-to-Work Program, as well as seven foreign languages.
"Thornton's ability to attract students from around the world has been successful, in part, because of the tremendous benefits of a Maine education. Families recognize Maine's natural beauty, its welcoming people, and the many opportunities that the state provides as the perfect place for their son or daughter to study, live, and play," Powers added.