What Trade Means to Maine
Last year, 2,087 Maine companies exported $2.8 billion in goods and services to 169 countries.
Trade supports 157,300 Maine jobs (nearly 1 in 5).
Trade-related jobs grew 10 times faster than total employment in Maine during the same time period.
Maine exports have grown more than 20% faster than state GDP since 2006.
(Sources: WISERTrade and "How Maine's Economy Benefits from International Trade & Investment" report from Business Roundtable)
---
STEP Financial Assistance Award

The State Trade Expansion Program (STEP) grant initiative of the U.S. Small Business Administration provides funding to increase the number of businesses that export. Eligible Maine businesses may receive up to $15,000 per year in reimbursements for costs associated with seeking new international sales.
What Our Members Say
"Maine International Trade Center went out of their way to support our research gathering initiatives, making it possible for us to make informed decisions for our business. Their support is especially important to us, being a startup, but the opportunity to have knowledgeable help readily available should be taken advantage of by any and all Maine companies, regardless of size. The MITC staff are professional, responsive, and friendly to work with, and I would go on record as highly recommending their services."
James Morin, COO, Flowfold, Gorham, ME
Future Global Leaders Internship Program
Application Deadline for Summer 2019: Feb. 1st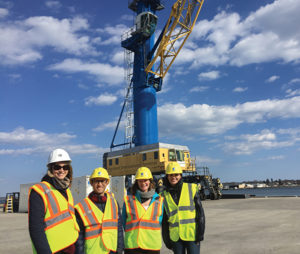 As a Research Assistant, MITC interns gain practical experience researching international markets and assisting Maine businesses.