What Trade Means to Maine
Last year, 2,087 Maine companies exported $2.8 billion in goods and services to 169 countries.
Trade supports 157,300 Maine jobs (nearly 1 in 5).
Trade-related jobs grew 10 times faster than total employment in Maine during the same time period.
Maine exports have grown more than 20% faster than state GDP since 2006.
(Sources: WISERTrade and "How Maine's Economy Benefits from International Trade & Investment" report from Business Roundtable)
---
STEP Financial Assistance Award

Through the State Trade Expansion Program (STEP) grant initiative of the U.S. Small Business Administration, eligible Maine businesses may receive up to $15,000 per year for seeking new international sales.

Are You Ready to Take Your Growing Business to the Next Level?
Our three-tiered trade education series provides practical skills training and valuable takeaways to help your staff and your business succeed in international markets whatever your current experience level.
Call for Entries – New Product Global Showcase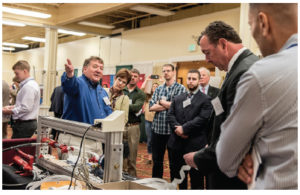 Does your company have a new product or service?
Review the entry guidelines to determine if you could be our next "Best in Show" winner.