In May, Maine International Trade Center celebrates Maine's international business community with a month-long World Trade Month campaign to focus attention on the importance of trade for the state featuring our annual Maine International Trade Day events.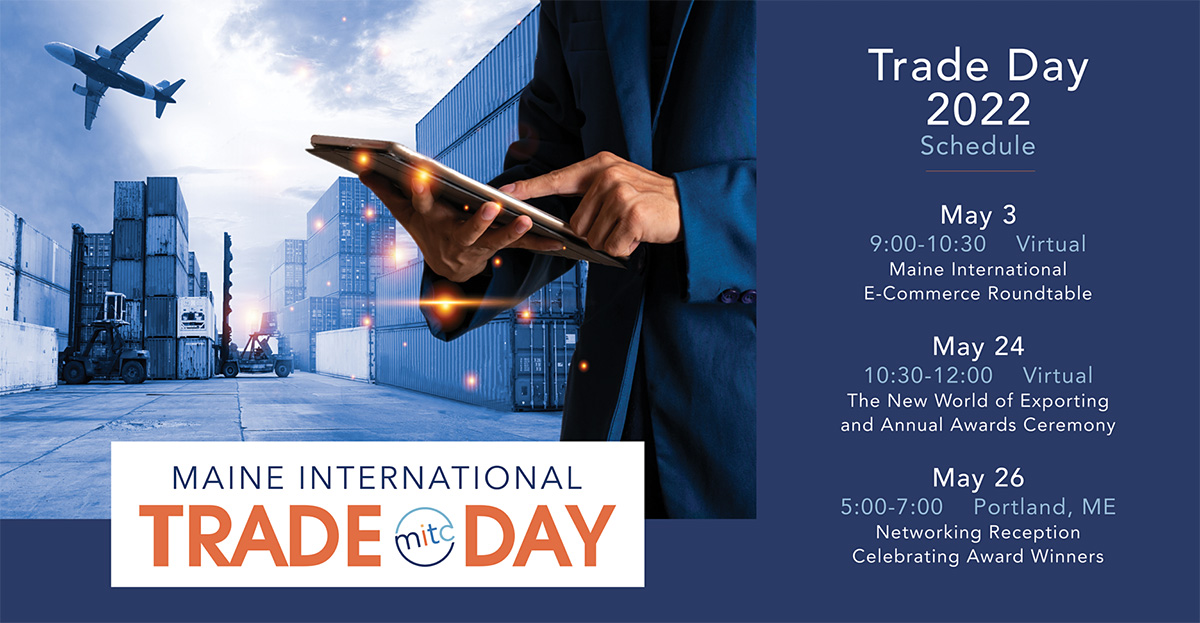 The New World of Exporting and Annual Awards Ceremony
May 24 @ 10:30 AM - 12:00 PM
Join us for this celebration of Maine's international business community as we honor the International Trade & Investment Award winners for 2022. Watch from wherever you happen to be, and login to your Google/YouTube account to participate in the Chat during the live stream event.
Exporter of the Year:  DeepWater Buoyancy (Biddeford, ME)
Innovator of the Year:  Puritan Medical Products (Guilford, ME)
Foreign Direct Investor of the Year:  Adapt Agency (Portland, ME)
Service Provider of the Year:  School of Policy & International Affairs (SPIA), University of Maine (Orono, ME)
President's Award:  Josh Rosen
Future Global Leader Award:  Abigail Gray
Networking Reception Celebrating Award Winners
The Roux Institute at Northeastern University, Portland, ME
Join us for an informal networking event with hors d'oeuvres and a cash bar to celebrate with our International Trade & Investment Award winners for 2022. The beautiful event venue includes an indoor area with an adjacent outdoor deck. Attendees will be asked to follow the
COVID-19 protocols
as established by our hosts on the day of the event.
Space is limited. Advance registration is required. 
We hope to see you there!
Maine International E-Commerce Roundtable
Global e-commerce sales are expected to reach more than $6.5 trillion by 2023, and more businesses are finding customers online than ever before. From prospecting to selling to shipping and delivery, digital trade offers new opportunities for small companies to increase export sales through digital advertising, payment collection platforms, and online channels to reduce transaction costs. Do you have an e-commerce strategy to identify and successfully reach the best international markets for your business?
Join us for this panel session moderated by MITC President Wade Merritt to discuss best practices, learn about available resources, and share tips.