Maine International Trade Center (MITC) provides training and resources to help your business successfully compete in international markets and develop your workforce for adaptability and innovation.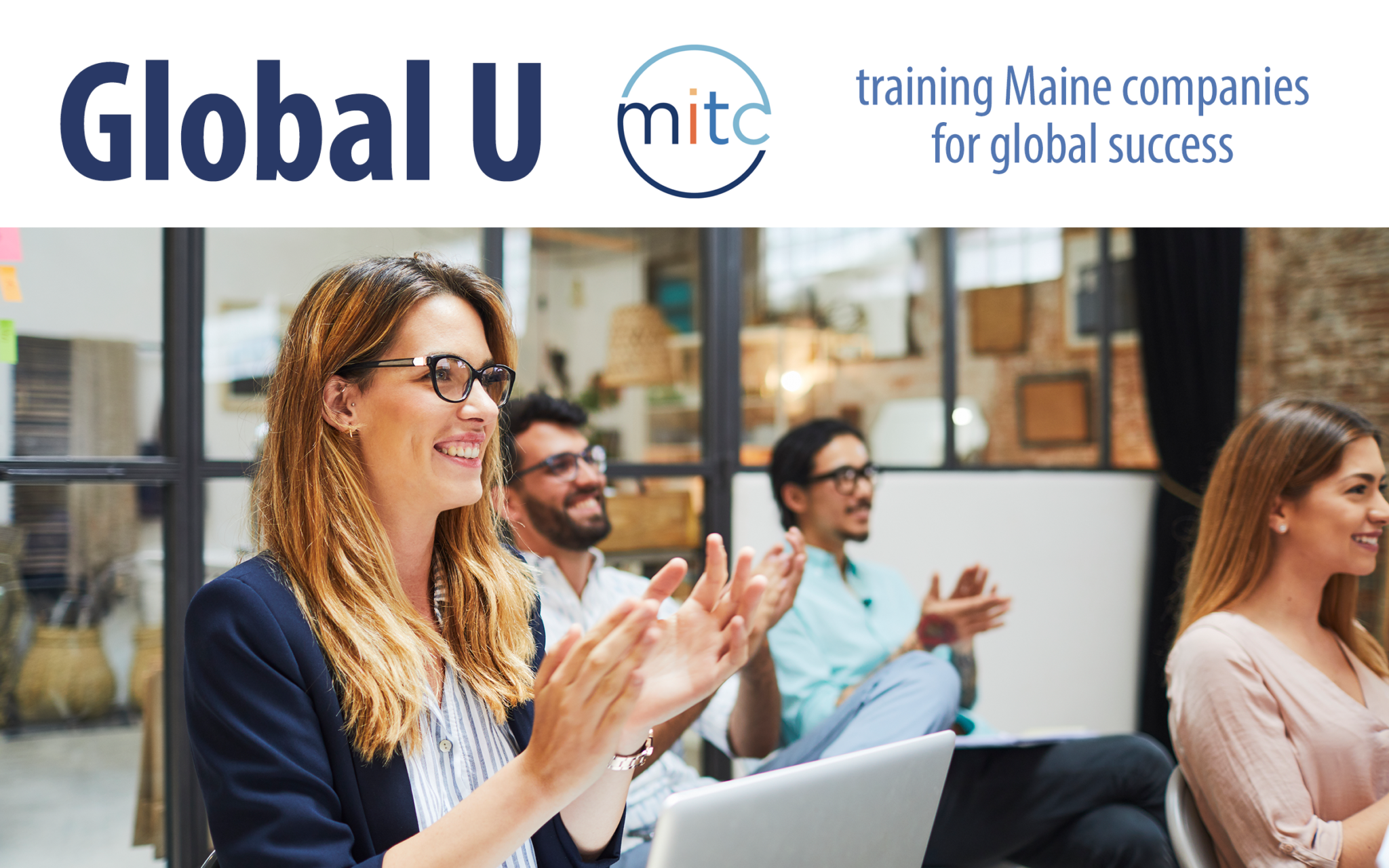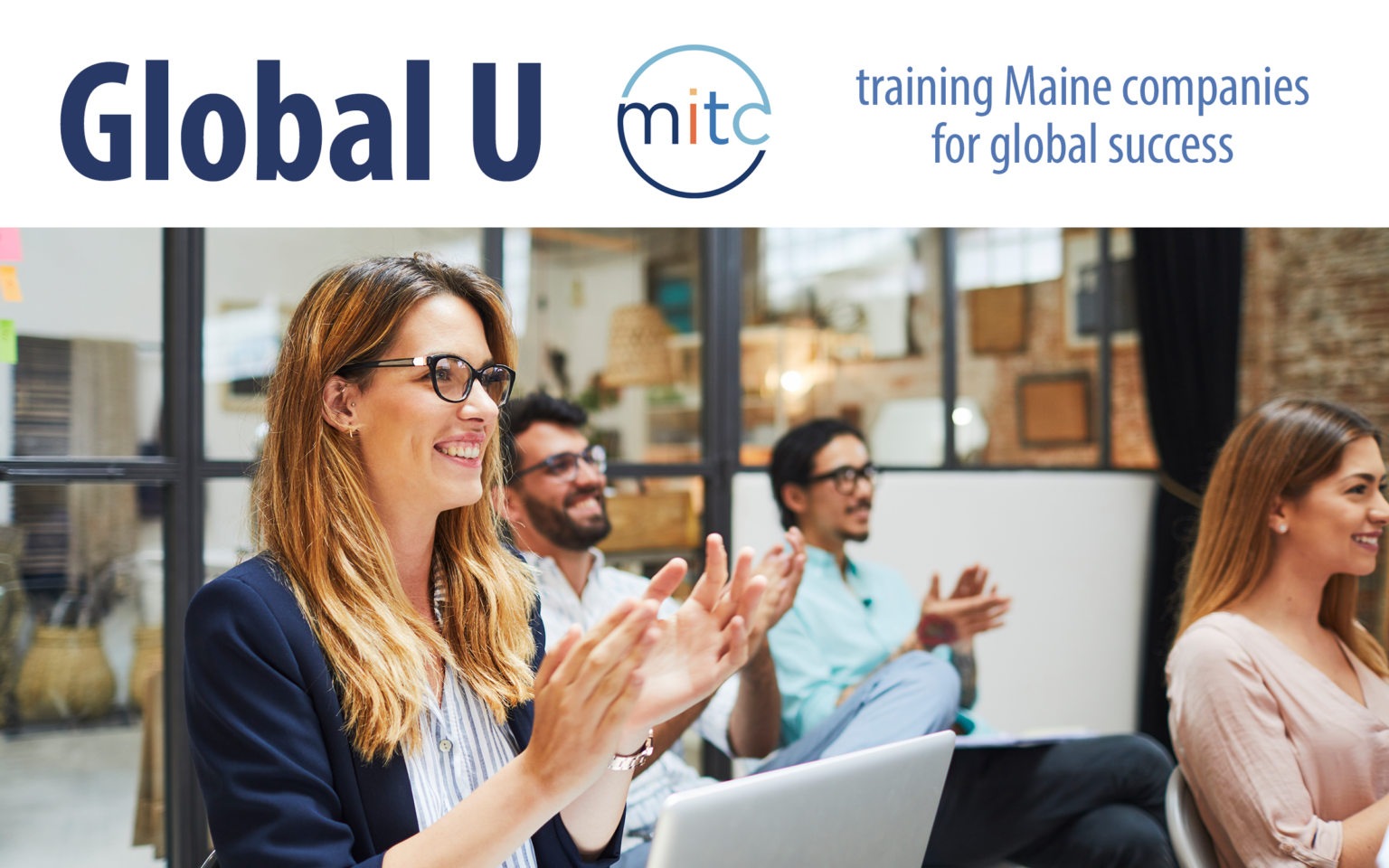 Our Global U education program delivers reliable guidance from experts and shares practical tips and real-world experiences from other companies who have been there.
Navigating the current global trade environment is challenging. You don't have to go it alone.
Global U covers a broad range of topics including cybersecurity, export documentation, e-commerce, logistics, and emerging markets.
What training will help your team succeed?
USMCA in 2023: What Maine Businesses Need to Know
Join MITC to learn everything you need to know about the United States-Mexico-Canada Agreement (USMCA). If your company is exporting products to Canada and Mexico, considering reshoring to Mexico, or uncertain if you are taking full advantage of the benefits of USMCA, you won't want to miss this webinar. Topics covered include how to determine whether or not your product qualifies under USMCA, documentation/record retention requirements, and common misconceptions surrounding what USMCA means for Maine companies. Featured Presenter: Jeffrey Simpson, LCB, Assistant Professor of Business and International Logistics at Maine Maritime Academy
Industry 4.0 & Maine's Future in the Global Market
Industry 4.0 – also called the Fourth Industrial Revolution – is the next phase in the digitization of the manufacturing/production and value creation processes. Our expert panel will explore what the promise of a new industrial revolution means for Maine.
How is Industry 4.0  changing manufacturing in Maine and making Maine fabricators more competitive in a global market place?
What are the educational and workforce development needs for successful implementation?
How are Maine companies and organizations innovating to overcome obstacles?
Maine International E-Commerce Roundtable
Global e-commerce sales are expected to reach more than $6.5 trillion by 2023, and more businesses are finding customers online than ever before. From prospecting to selling to shipping and delivery, digital trade offers new opportunities for small companies to increase export sales through digital advertising, payment collection platforms, and online channels to reduce transaction costs. Do you have an e-commerce strategy to identify and successfully reach the best international markets for your business? Join us for this panel session moderated by MITC President Wade Merritt to discuss best practices, learn about available resources, and share tips.
Global Cybersecurity Roundtable
As follow up to our previous cybersecurity event, we're bringing back a dynamic panel of Maine cybersecurity professionals and industry experts to share their insights on global cybersecurity trends to watch for in 2023 and beyond. In this webinar, you'll get valuable information and tips for protecting your digital information, computers, and networks from cyberattacks.
Cybersecurity Essentials for International Business
How can you best protect information, computers, and networks from cyberattacks? Do you have data backup and mobile device policies in place? What cybersecurity resources are available for small businesses? Join MITC to hear from our expert panel to learn about the common types of cybersecurity threats and action steps to protect your company and customers. Moderator: Patricia R. Toth   Panel: Chris Saucier, Roux Institute at Northeastern University, and Rob Simopoulos, Defendify
Navigating Canada's Non-Resident Business Requirements
Is your business ready for the new Canadian tax rules? To help you navigate Canada's non-resident business requirements, join MITC and Welch LLP, a Chartered Public Accounting firm based in Ottawa Canada, for the "Navigating Canada's Non-Resident Business Requirements" webinar. You will learn about the new requirements, determining non-resident status, business numbers, and small suppliers' status. Whether you are looking at early-stage market entry or a large-scale expansion in Canada, this webinar is for you.
International E-commerce Strategies for Growing Demand
We are pleased to partner with Maine Ecommerce Collective to present this webinar, which will include pros and cons of the industry's leading e-commerce platforms and sales channels and insights from successful e-commerce brands. Presenters and panelists: Devin Temple, iBec Creative and Founding Member of Maine Ecommerce Collective; Nate McCraven, iBec Creative and Founding Member of Maine Ecommerce Collective; Vince Kott, Hornet Watersports; Keith O'Brien, Page.One; and Brendon Reay, HarborHouse Partners.100 smalI pack exports/day, will share her best tricks of the trade. Presenter:  Kristen Morneau, Senior Advisor, Mohawk Global Trade Advisors