A national report analyzing five metrics for each of the 50 states puts Maine as the fourth-highest state overall for well-being.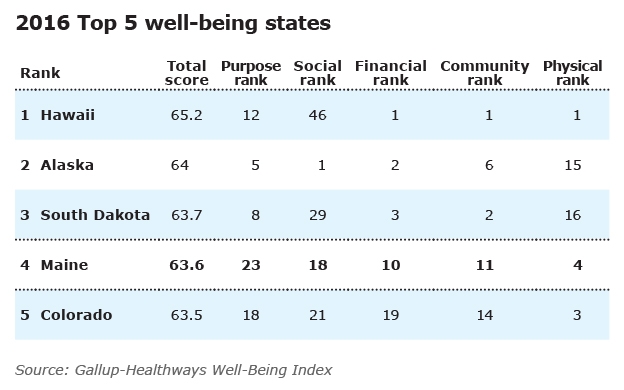 That ranking, announced today as part of the Gallup-Healthways State of American Well-Being series, is up nearly 20 spots from last year.
The report looks at how states compare across the five elements of well-being:
Purpose, defined as "liking what you do each day and being motivated to achieve your goals."
Social, "having supportive relationships and love in your life."
Financial, "managing your economic life to reduce stress and increase security.
Community, "liking where you live, feeling safe and having pride in your community."
Physical, "having good health and enough energy to get things done daily.
Maine had top 10 finishes for its financial and physical rankings.
The top five states are Hawaii, Alaska, North Dakota, Maine and Colorado.