BY MAUREEN MILLIKEN
The site that once housed Millinocket's Great Northern Paper mill has its first tenant — an anchor that is expected to bring 100 direct jobs to the Katahdin region in the next five years.
LignaCLT Maine LLC will build a 300,000-square-foot manufacturing plant on 35 acres of the 1,400-acre site now owned by Our Katahdin LLC, becoming the state's first cross-laminated timber manufacturer.
"I think this will be a great anchor tenant," Sean DeWitt, president of the nonprofit Our Katahdin, said on Tuesday.
DeWitt said Our Katahdin talked to more than 30 companies about development opportunities at the shuttered mill, adding that LignaCLT "sat down, looked us in the eyes and said they wanted to be here."
DeWitt said the North Carolina-based company and Our Katahdin were introduced by the University of Maine, which last fall got a $455,532 grant to research the use of Maine-sourced timber for composites that are used in place of steel and concrete in construction.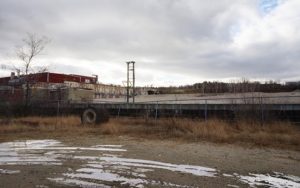 The plant will also manufacture Glulam, a wood product for columns and beams that is also made with layers of dimensioned lumber bonded with moisture-resistant adhesives.
The company will construct a new building at the site, smaller than the ultimate 300,000-square-foot build-out, within 12 months.
As members of Our Katahdin, representatives from the company and others involved in bringing LignaCLT to the Millinocket region prepared for a mid-morning news conference, DeWitt said that there is still a lot of work to be done.
'Forward-looking product'
Cross-laminated timber is an engineered wood product that is billed as an environmentally friendly alternative to concrete and steel. It's been used for some time in Europe, but the technology is just beginning to gain traction in the United States.
The University of Maine program's focus is to advance new forest products technologies and bring innovative mass timber manufacturing to Maine.
DeWitt said the LignaCLT news is exciting, not only because it's part of the hard-fought revitalization of the Katahdin region, but because of the technology itself.
"It's a really forward-looking product," he said. Now the building codes have loosened restrictions on such products, demand is picking up in the United States.
Husson professor facilitated negotiations
The announcement came after several months of negotiation, facilitated by Brien Walton, an associate professor of entrepreneurship at Husson University.
The use of CLT in building projects across the globe has been shown to reduce construction time by over 33%, according to a news release advancing the Tuesday news conference.
The estimate that the plant will create more than 100 jobs within five years is based on industry trends, according to the news release. The plant is also expected to sustain "hundreds more in value chain operations," the release said.
DeWitt said that LignaTerra shares Our Katahdin's commitment to community and economic development.
LignaTerra Global LLC, of Charlotte, N.C., parent company of LignaCLT Maine, made the decision to come to Maine for several reasons, said Nick Holgorsen, CEO and co-founding partner of LignaTerra Global.
"First, the types of trees that are important to the cross-laminated timber production process are plentiful here in Maine," he said. "Second, we know that Maine has a dedicated, productive workforce with timber industry experience. We see this as an opportunity to provide jobs and help communities thrive. Our organizational culture is dedicated to making a positive social impact in the communities we serve."
The project involves a complex financial structure and "at least a dozen different nonprofits, for-profits and government agencies involved," according to the news release.
Husson's Walton, who is director of the university's Richard E. Dyke Center for Family Business, in Bangor, said the negotiations were successful because of "shared core values, a shared vision for Maine's potential, and critical support from the regional economic development leader, the Eastern Maine Development Corp."
'New era' for Maine's forest products industry
Michael Aube, president of EMDC, said LignaCLT's decision to invest in Millinocket "is just the beginning of a new era of growth for Maine."
"Three years ago, EMDC and others came together to research, study, and analyze complimentary new timber uses for economic growth," Aube said in the news release. "CLT is one of those new investment opportunities. Coupled with our Maine universities and higher education institutions, Maine's workforce is ready to help any company achieve its goals."
Aube said the University of Maine's focus on alternative uses of Maine timber and sustainable forestry was a critical factor in helping bring CLT production to the state.
"LignaCLT is in position to lead wood product innovation in Maine's private sector and directly support related industries throughout the state and across the entire Northeast," he added.
Walton foresees even more benefits. "Having a new company begin operations in Maine creates more employment and internship opportunities for Husson University students after graduation. The creation of good jobs also helps make Maine more attractive to young professionals."
First tenant for mill's redevelopment
The pulp and paper mill in Millinocket had operated for a century before it closed in 2008. New Hampshire firm Cate Street Capital bought it in 2011, and sold it to Our Katahdin in January 2017. The nonprofit, made up of Millinocket-area natives, bought it for $1, and acquired an estimated $1.5 million tax burden.
The town recently agreed to a compromise on the back taxes, DeWitt said. The deal must be approved by the IRS, and a ruling should come in April. DeWitt said that the owners would pay back real estate taxes to the town under the agreement.
"The hope is that we can start generating [tax revenue at the site] as soon as possible," he said.
Our Katahdin has rebranded the mill site One Katahdin, a multi-use, sustainable industrial park.
While some of the larger buildings on the site were torn down in 2013, seven buildings remain, including the ornate administration building at the end of Katahdin street at the mill site's original entrance.
Site work is still being done for the Ligna building, but it will likely be on the large, flat and vacant former wood lot, near the administration building.
There is some infrastructure at the site — including hookup to town sewer and electricity at some of the remaining buildings, including the administration building. More will also be installed to accommodate Ligna's production needs.
DeWitt said that Our Katahdin is looking at complementary businesses as tenants — sawmills, wood pellet manufacturing — but there is also room for businesses like a data center, or other non-timber related uses.
He said the fact that what Ligna produces is "beautiful, economical and environmentally friendly" is the type of business Our Katahdin hoped for when they first acquired the mill site.
"It's been a long time since you could say that we're on the forefront of a new forest product," he said. "You may say, 'We're never going back to the days of 4,000 jobs [at the site],' but this is something. This is really special."
Penobscot Avenue, Millinocket's main street. The area's revillitazation efforts got a boost with news that LignaCLT Maine, which will produce cross laminated timber, will move onto 35 acres at the site of the former Great Northern Paper mill.