Our Role & 2021 Highlights
Maine International Trade Center (MITC) is Maine's leading source for international business assistance. MITC offers customized consulting, research, and an extensive network of connections across Maine and around the world to help businesses expand global markets for their products and services.
A public-private partnership, MITC activities are supported by nearly 300 businesses and organizations, corporate sponsors, and the Maine Department of Economic & Community Development (DECD). MITC members include manufacturers, service providers, and educational institutions located in all 16 Maine counties. While our members support the organization through annual membership dues, MITC provides assistance to any Maine business whether members or non-members. We work with both exporters and importers.
What Trade Means for Maine
More than 2,000 Maine companies exported over $2.7 billion in goods and services to 173 markets last year (federal export data available through November 2021).
With more than 95% of the world's population outside the US, future economic growth and jobs for Maine increasingly depend on expanding opportunities in the global marketplace.
85% of Maine exporters are small- and medium-sized businesses (less than 500 US-based employees).
International trade supports 176,100 (more than 1 in 5) Maine jobs.
Foreign-owned companies employ 35,600 Maine workers.
With 375 international employers in the state, companies from Canada, The Netherlands, and Switzerland support the largest number of Maine jobs.
Sources:  U.S. Census Bureau, "How Maine's Economy Benefits from International Trade & Investment" from Business Roundtable, and "Investing in America" from Global Business Alliance
Dear MITC Members and Friends:
If I needed one word to describe 2021, I could choose "resilience," but I'm going to get a little more obscure and choose "jouncing." I hadn't heard it before I sat down to write this, but I came across this brilliant little word which means "to move joltingly or roughly up and down" and realized I had found the perfect description for the year just past.
We know about the uncertain and the just plain bad; the things which have knocked our feet from under us just as we felt like we were standing again. Domestic political instability the likes of which we have never seen in our lifetimes and successive, unexpected, and unwelcome waves of this intransigent pandemic are what many of us will remember.
And yet, there was much good this year. In these pages, you'll see the story of, yes, resilience in the MITC team and most importantly the businesses and communities we serve. As we close the year, the state's business community has exported more through October 2021 than they did in all of 2020 and are on track to have their best year since 2012. Two businesses from Europe chose Maine as their new home in the United States, and 23 companies utilized STEP funds for market expansion, reporting $13 million of expected sales from those projects (quadruple the number from the previous year). In the fourth quarter, MITC staff were able to resume international travel and led delegations to Iceland and Germany, as well as notably the first US state delegation to visit Canada after the border reopened.
Enjoy the stories of this year's annual report; they are yours even more than they are ours. "Resilience" or "jouncing" – choose your word – it is our privilege to be here to work with you and your business to navigate these times.
All the best for 2022.


In a year filled with challenges, our team continued to assist Maine businesses with international business needs and strategies.
companies across Maine assisted
During the first half of the year, in-person meetings were replaced by emails and phone or video calls. Overseas trade missions and large global trade shows went virtual. Our team adapted to the changing COVID-19 guidance and explored different options that would allow Maine businesses to maintain existing overseas relationships, as well as develop new global markets during the pandemic.
In May, MITC celebrated World Trade Month and held Trade Day 2021 virtually for the first time. World Trade Month (formerly World Trade Week) has been celebrated every May since 1935 by a number of federal agencies, state trade offices, area chambers of commerce, and other public and private organizations. Originally proclaimed by President Franklin D. Roosevelt to emphasize the importance of regaining foreign markets to rebuild the American economy during the Great Depression, World Trade Month had special significance this year as MITC looked ahead to a post-pandemic global economic recovery.
MITC engaged in the state-level planning process exploring opportunities in the offshore wind sector. In 2021, MITC co-presented three information sessions on the sector to international audiences; opened discussions with trade and investment development authorities from Canada, Germany, the Netherlands, South Korea, and the United Kingdom; and responded to four private sector inquiries about potential investments.
As COVID-19 vaccine rollouts gradually gained ground and travel restrictions were dropped in the second half of the year, MITC organized and led the first in-person US trade visit to Canada since the start of the pandemic in 2020.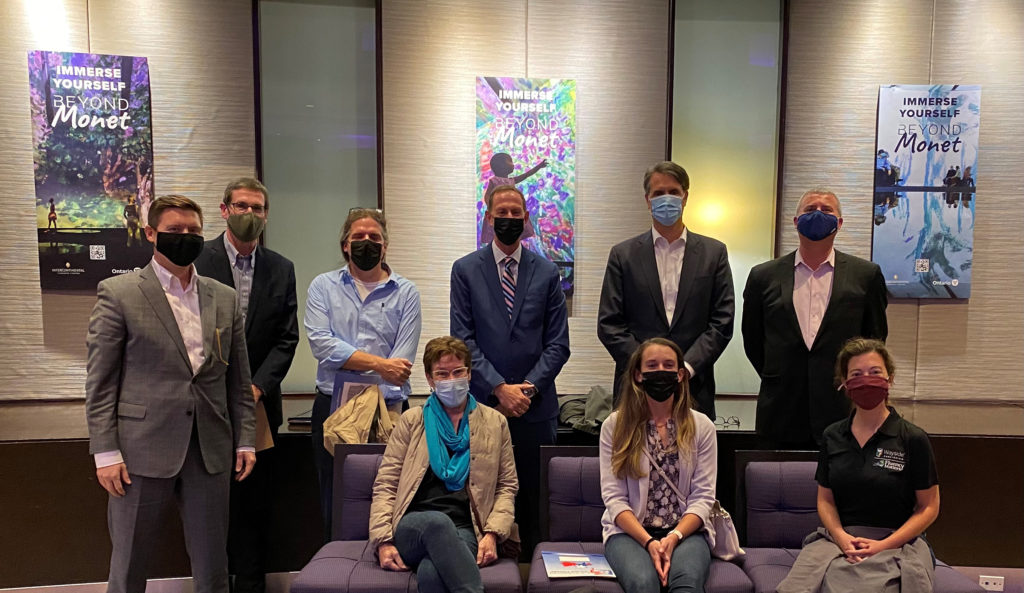 Finally, we welcomed a new staff member to the MITC team. In October, Adrian Horn joined the MITC staff as Director of Trade Services. An Arizona native, Adrian moved to Maine in 2015 after a varied career that began in the US Marine Corps and included a stop at Apple. Since 2017, Adrian supervised the project management and training teams at MITC 2020 Foreign Investor of the Year award winner Modula in Lewiston, as well as implemented training and other projects at a number of their international operations.
In this Annual Report, you'll find a summary of how MITC worked to grow Maine's economy and develop Maine's global workforce over the past year.
Thank you to our dedicated Staff and Board of Directors.