In May, Maine International Trade Center celebrates Maine's international business community with a month-long World Trade Month campaign to focus attention on the importance of trade and hold our annual Maine International Trade Day events. Because of the collaboration and innovation of the past few years, Maine is poised as a leader on the world stage in several key sectors such as renewables, blue and forest bioeconomy, and new space. Join us at Trade Day 2023 to celebrate successes and discuss opportunities for more businesses to get involved.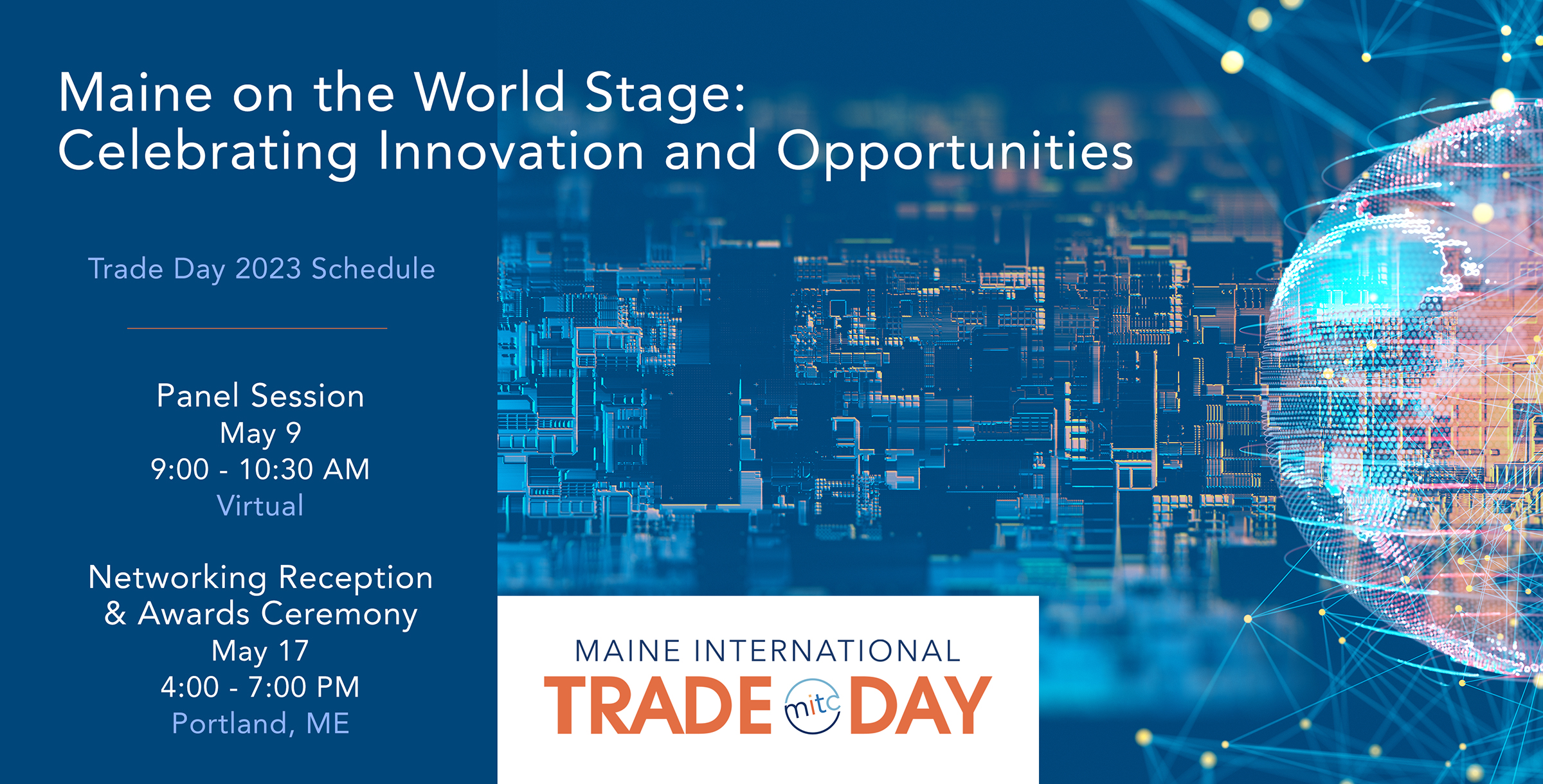 Industry 4.0 & Maine's Future in the Global Market
Date:  May 9, 2023
Time:  9:00 – 10:30 AM
Location:  live webinar
Cost:  free
Join us for an engaging and informative panel discussion focused on Industry 4.0 implementation.
Industry 4.0 – also called the Fourth Industrial Revolution – is the next phase in the digitization of the manufacturing/production and value creation processes. Our expert panel will explore what the promise of a new industrial revolution means for Maine.
How is Industry 4.0  changing manufacturing in Maine and making Maine fabricators more competitive in a global market place?
What are the educational and workforce development needs for successful implementation?
How are Maine companies and organizations innovating to overcome obstacles?
Moderator:
Michael Stone, President, Stone & Associates
Panel:
John Belding, Director, Advanced Manufacturing Center, University of Maine
Mariah Cunningham-Knaus, Supply Chain Optimization Project Manager, Maine Manufacturing Extension Partnership
Tony Paine, Co-Founder & Chief Executive Officer, HighByte
Networking Reception & Awards Ceremony
Date:  May 17, 2023
Time:  4:00 – 7:00 PM
Location:  Abromson Community Education Center, University of Southern Maine, Portland, ME
Cost:  MITC members $25 / Non-members $45
We're excited to gather Maine's international business community together in Portland – for the first time since 2019 – to celebrate our annual award winners whose stories will inspire you. Join us on May 17th, and you'll leave with new connections and perspectives.
4:00 – 5:30 PM
Networking Reception
5:30 – 7:00 PM
Annual Trade & Investment Awards Ceremony
2023 Award Winners
Exporter of the Year: North American Kelp
Foreign Direct Investor of the Year: Libellula
Innovator of the Year: Fox Forestry
Service Provider of the Year: Dirigo Strategies, LLC
President's Award: Maine Lobster Marketing Collaborative
Future Global Leader Award: Keegan Stanton-Meas