Maine International Trade Center (MITC) helps Maine businesses grow international sales. According to our most recent International Business Needs Survey, MITC's one-on-one consulting assistance and research services are extremely important and highly valued by Maine businesses.
Trade assistance covers a broad range of topics including logistics, tariffs, documentation, and research reports on new markets. MITC's team of trade specialists have decades of international trade experience and a depth of knowledge in key industry sectors including advanced manufacturing & composites, food & beverage, forest products, and life sciences. In addition, MITC has developed a network of valuable professional contacts in Africa, Asia, Canada, the High North/North Atlantic, and Europe.
How We Help – One Example
Unable to locate the necessary used machinery in Maine, a new plywood plant being built in Bingham contacted MITC to request immediate assistance to clear customs and bring in heavy machinery from Quebec. Canada Desk Director Jeff Bennett responded, providing MITC's logistics guide and consulting with the company to make recommendations and referrals based upon their specific needs.
MITC provides financial assistance to eligible Maine companies to expand international sales. Generally, export assistance funds may be used for business-to-business matchmaking, interpreters or translators, trade show space, or other on-the-ground overseas activities. The global pandemic required a shift in focus for how funds could be used to virtual B2B matchmaking, online export skills training, and international e-commerce and digital marketing activities. 
During 2021, 23 Maine small businesses were approved for 38 projects to grow export markets with STEP Financial Assistance Awards. These projects generated $428,000 of reported actual sales, with an additional $13.4 million in projected sales for the next 12-18 months, representing a 2.4:1 immediate return and projected 73.6:1 return on grant funds. These numbers represent a significant uptick in international activity over the previous year – total projects more than doubled, reported actual sales quadrupled, and projected sales tripled year-on-year.
MITC is the state partner for Food Export USA, which promotes the export of food, seafood, and agricultural products through the Market Access Program (MAP). MAP provides cost-share assistance to eligible organizations for activities such as consumer advertising, public relations, point-of-sale demonstrations, participation in trade shows, market research, and technical assistance. According to the most recent annual reporting available (2020), 27 Maine companies participated in 87 activities resulting in $20 million in actual sales and $29 million in projected sales.
For small and medium-sized companies MITC offers valuable exposure to international buyers and distributors in a cost-effective way through coordinated group participation in overseas trade shows and missions. In addition to exhibiting in shared booth space, companies hold one-on-one meetings with pre-screened international buyers and distributors. Our team also works closely with participating companies to make the most of the experience before, during, and after the show or mission. As in the previous year, much of 2021 activity was virtual rather than in-person due to the global pandemic.

With both Seafood Expo North America and Seafood Expo Global trade events cancelled in 2021, MITC worked with Food Export USA to organize a Virtual Seafood Buyers Mission of scheduled one-on-one meetings with international buyers. During the three-day mission, 5 Maine seafood companies participated, and meetings were held with 27 buyers representing Australia, Brazil, Bulgaria, China, El Salvador, France, Guatemala, Hong Kong, Netherlands, Portugal, Saudi Arabia, Spain, Taiwan, Thailand, U.A.E., and Vietnam.
MITC organized virtual trade missions to Germany and Africa, in cooperation with Eastern Trade Council (ETC), to provide Maine companies with opportunities for matchmaking with pre-qualified companies/distributers.
In late October, MITC organized and led the first US trade mission to Canada since the start of the COVID-19 pandemic. In cooperation with the US Commercial Service, the Maine Trade Mission to Canada brought five Maine companies to Toronto for a full schedule of one-on-one meetings with prospective trade partners in key industry sectors. The Toronto Region is the commercial, distribution, financial and economic center of Canada, generating 18.5% of Canada's GDP and home of the national headquarters for 38% of Canada's businesses.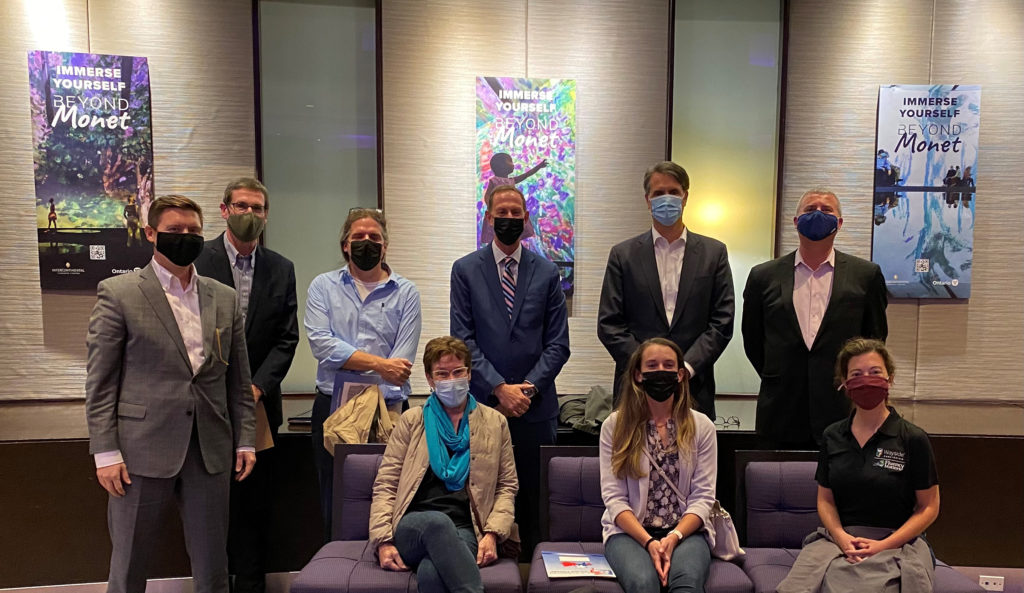 Participating Maine companies were Lanco Integrated (Westbrook), NaviTrade Structured Finance (Falmouth), ORPC (Portland), PTC/Kepware (Portland), and Wayside Publishing (Freeport). Learn more: Maine Delegation Booklet 
In November, MITC led the "Best of New England" delegation at MEDICA 2021, the world's largest and most prestigious medical technology and equipment show, in Düsseldorf, Germany. A total of four companies from the five New England states exhibited at the show. While participation numbers were lower than normal due to the pandemic, exhibitors indicated that the quality of the visitors and the meetings held were high.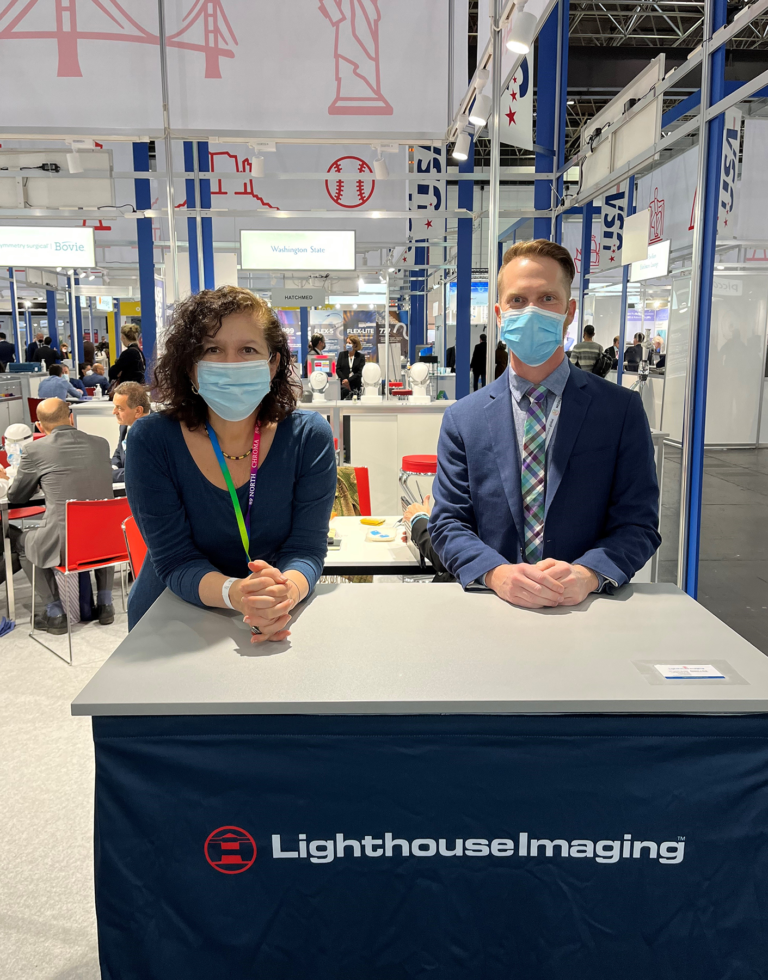 Invest in Maine is an initiative of MITC and Maine Department of Economic and Community Development (DECD) established to promote job creation and growth through overseas business attraction.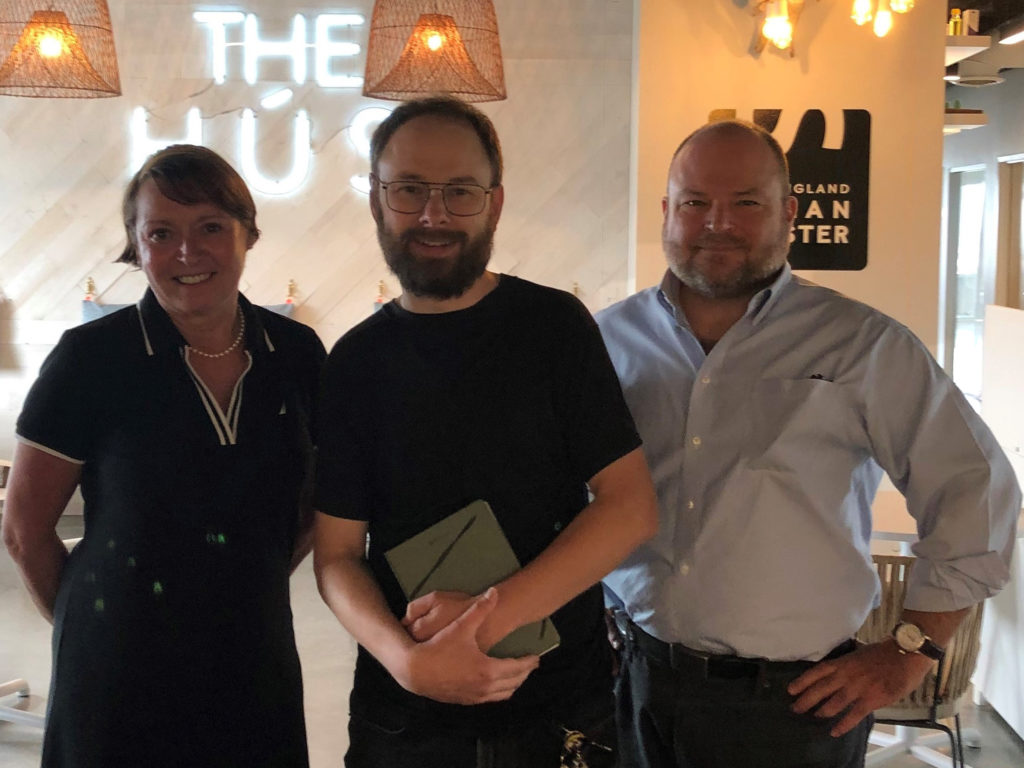 In 2021, Adapt Agency, a digital company with corporate headquarters in Copenhagen, established its US office in Portland after a visit to Maine coordinated by Invest in Maine. The Portland office has a team of approximately 20 designers, strategists, and engineers located from Ellsworth to Portland in Maine and to Las Vegas, Nevada and Lima, Peru.
Maine Army National Guard's long-standing relationship with Montenegro's armed forces first began looking at private sector expansion in 2009. During 2021, the Guard requested assistance from MITC and the Maine Center for Entrepreneurial Development (MCED) to coordinate meetings for the leadership of Digital Den, an early-stage incubator in Montenegro.
During the visit to Maine, the group met with the Roux Institute, Maine Technology Institute, Maine Angels, the New England Ocean Cluster, and the Foster Center for Innovation at University of Maine. Member companies of Digital Den plan to visit Maine in Spring 2022.
The Maine North Atlantic Development Office (MENADO) was formed in 2013 as an initiative of MITC to increase trade, investment, and collaboration between the State of Maine and markets of the North Atlantic and to develop Maine's engagement in Arctic affairs.
In October, MENADO led a 30-person Maine delegation at the Arctic Circle Assembly in Reykjavik, Iceland. MENADO organized Maine delegation meetings and events, and 14 Mainers presented in breakout sessions at the Assembly. Thanks to the generosity of Portland company Sustainametrix and MS StoryWorks, Maine's important work and connections in the Arctic were captured in this beautiful video.
In 2021, MENADO co-created a Forest Bioeconomy Collaboration Group with Finland, and the state of Michigan soon joined. The Finland-Maine-Michigan Forest Bioeconomy Collaboration Group facilitates five working groups with nearly 100 experts from industry and academia working together to fast-track solutions, materials, and product development in the forest bioeconomy space. The work brings global attention to Maine's considerable expertise and resources in the forest industry and is generating interest in investment in forest biomaterials manufacturing in the state.
In November, Commissioner Amanda Beal and Claire Eaton of Maine DACF, MENADO Director Dana Eidsness, and partners from the Government of Finland and Michigan's Department of Natural Resources met in Washington, DC. Hosted by the Embassy of Finland, the event was an opportunity for high-level policy discussions, Finland-Maine-Michigan Forest Bioeconomy Working Group presentations and workshops, and strategy discussions about future engagement under Maine and Michigan's respective MOUs with Finland.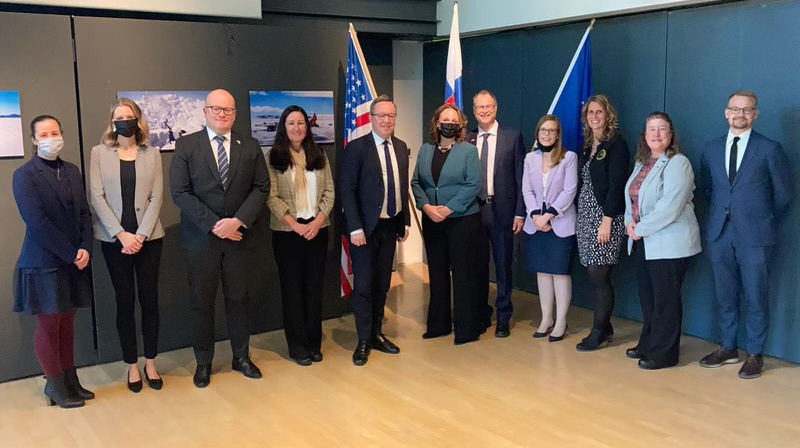 Offshore Wind Global Supply Chain
Last year, MITC engaged in the state-level planning process exploring opportunities in the offshore wind sector. The offshore wind industry is exploding worldwide, and projects underway or under consideration in the United States have (or will have) significant international participation.
Formally launched in July, the Offshore Wind Roadmap is an initiative of the Governor's Energy Office to identify how to foster an offshore wind industry that works for Maine's people, businesses, and communities. Participating on the Supply Chain, Workforce, and Ports Working Group, MITC identified several key activities:  help Maine businesses access supply chain opportunities for domestic and international projects; promote the state as an investment location for global businesses seeking a US presence; and support workforce development plans for the sector, many of which will benefit other sectors as well.
In 2021, MITC co-presented three information sessions on the sector to international audiences; opened discussions with trade and investment development authorities from Canada, Germany, the Netherlands, South Korea, and the United Kingdom; and responded to four private sector inquiries about potential investments.
A statewide consortium of Maine high schools, colleges, and universities, MITC's StudyMaine initiative, in close partnership with the U.S. Commercial Service office in Portland, promotes Maine overseas as a top US education destination. Typically, more than 2,400 international students contribute an estimated $80 million annually to Maine's economy.
With travel limited by the ongoing global pandemic, StudyMaine activities during 2021 focused on virtual education fairs and online presentations to reach education agents, students, and parents in Azerbaijan, India, Russia, and Turkey.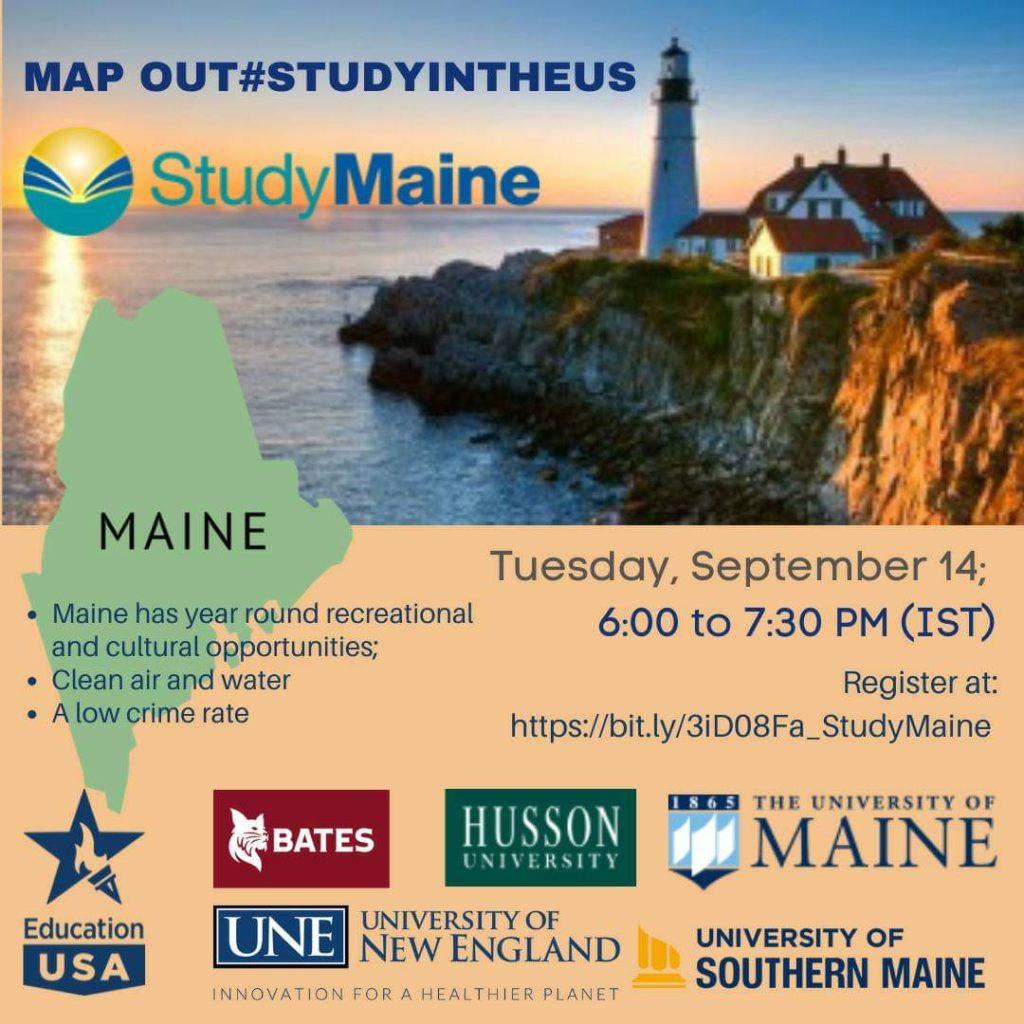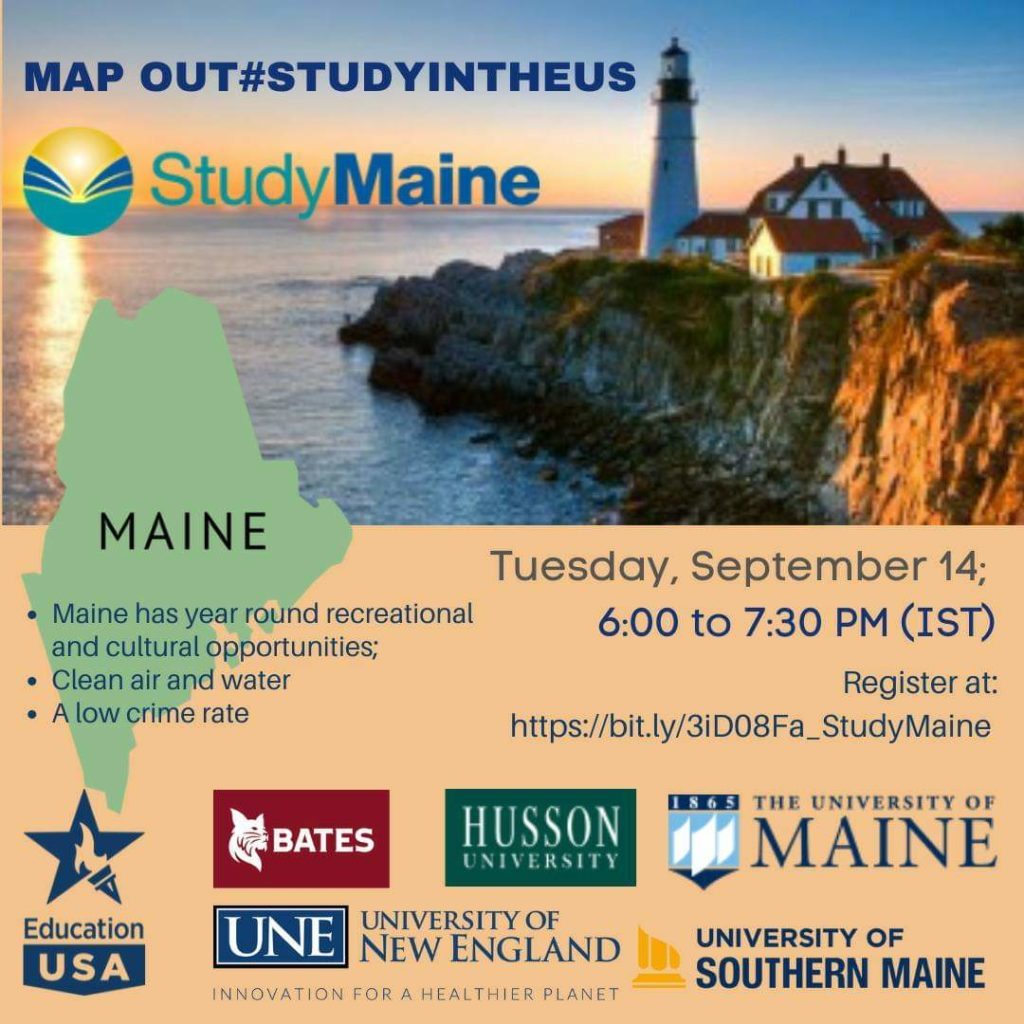 In September, an EducationUSA event allowed StudyMaine and five Maine post-secondary institutions to reach an audience of over 200 prospective students from India.