One-on-One Business Assistance
Maine International Trade Center (MITC) helps Maine businesses grow international sales. According to our most recent International Business Needs Survey, MITC's one-on-one consulting assistance and research services are extremely important and highly valued by Maine companies.
2022 Maine Organizations Assisted
Trade assistance covers a broad range of topics including logistics, tariffs, documentation, and research on new markets. MITC's team of trade specialists bring experience and a depth of knowledge in key industry sectors including advanced manufacturing & composites, forest products, and life sciences. In addition, MITC has developed a network of valuable professional contacts in Africa, Asia, Canada, the High North/North Atlantic, and Europe.
Vino & Friends, an Argentina-based wine producer looking to expand operations, expressed interest in working with a local partner in Maine to establish a facility from which to distribute their product in the United States. MITC provided information on state incentives and resources for international investors, applicable tariffs, the fastest and most cost-effective shipping options, and a competitive market analysis report for their product.
Trade Assistance Requests
MITC provides financial assistance to eligible Maine companies to expand international sales. Generally, export assistance funds may be used for business-to-business matchmaking, interpreters or translators, trade show space or other on-the-ground overseas activities, as well as international e-commerce and digital marketing activities.
MITC is the state partner for Food Export USA, which promotes the export of food, seafood, and agricultural products through the Market Access Program (MAP). MAP provides cost-share assistance to eligible organizations for activities such as consumer advertising, public relations, point-of-sale demonstrations, participation in trade shows, market research, and technical assistance. According to the most recent annual reporting available (2022), 25 Maine companies participated in 48 activities resulting in over $5 million in actual sales and almost $7.5 million in projected sales.
During 2022, a total of 27 Maine small businesses were approved for 35 projects to grow export markets with STEP Financial Assistance Awards. These projects generated $4.3 million in actual sales reported, with an additional $25 million in projected sales for the next 12-18 months representing a 25.6:1 immediate ROI and 153:1 projected ROI for funds awarded last year. In September, MITC received an additional $400,000 in federal money from the US Small Business Administration to continue funding under this program for 2 more years.
"This funding was very helpful in reestablishing our international market connections after the COVID-related downturn and opened up connections in the Middle East which we previously did not have."
Anderson Griffin, Corporate Controller, Montalvo Corporation
(Gorham, ME)
"MITC enabled Defendify to take a measured risk in extending our marketing efforts beyond our traditional, US-based market, gaining insights about the Canadian customer and market demand for our products and services. It was an invaluable experience to invest in a test market and learn more about our target audience."
Emily Carville, Chief Marketing Officer, Defendify
(Portland, ME)
"Fantastic help - thank you! As a small business, this [financial assistance] was so critical to helping us land on our feet."
Dave Rosin, Vice President of Sales & Business Development, ElleVet Sciences
(South Portland, ME)
"This support was exactly what we needed. We need to make potential clients and partners overseas aware of our capabilities, but until now it was difficult to dedicate the funding required to put together a website that had the desired effect. With this STEP funding and with the support of MITC's staff, we were able to get over that hump."
Tobias Dewhurst, CEO, Kelson Marine Co.
(Scarborough, ME)
"MITC is both a lifeline when we're challenged and a springboard for our company's growth. Thank you!"
Seth Berry, VP International Business Development, Kennebec River Biosciences, Inc.
(Richmond, ME)
"MITC's market assistance has enabled ORPC to attain positive visibility in international markets and help grow our company and its footprint in Maine."
Morgan Welton, Grant and Technical Writer, Ocean Renewable Power Company, Inc.
(Portland, ME)
"Thank you, MITC. These grants are invaluable. "
Patrick Sweeney, CFO, Lanco Integrated
(Westbrook, ME)
"MITC has been a great help in our export business. This aid in funding activities has been a real boon to our business."
Dan Cote, Sales Manager, DeepWater Buoyancy, Inc.
(Biddeford, ME)
"I want to thank MITC for their support of companies like OSS, and specifically on behalf of OSS a big thank you for this international marketing support. This support is critical as we struggle with developing materials for international business development, which is a difficult task in normal times, but is even more challenging in the age of COVID-19. I can't help but believe that this support will be a key factor in helping OSS achieve success."
Roland Sirois, CEO, Orono Spectral Solutions (OSS) Inc.
(Hermon, ME)
For small and medium-sized companies MITC offers valuable exposure to international buyers and distributors in a cost-effective way through coordinated group participation in overseas trade shows and missions. In addition to exhibiting in shared booth space, companies hold one-on-one meetings with pre-screened international buyers and distributors. Our team also works closely with participating companies to make the most of the experience before, during, and after the show or mission.
In 2022, seafood remained Maine's top export commodity for the 8th straight year. In collaboration with the US Commercial Service (USCS) Portland office and Food Export USA Northeast, MITC organized an exhibition space with three Maine companies in the US Pavilion at Seafood Expo Global/Seafood Processing Global, the world's largest seafood trade event. This was the first year the event was held in its new location of Barcelona, Spain. Despite challenges of ongoing travel restrictions with few buyers from China in attendance and the absence of the Russia Russia pavilion due to the war in Ukraine, attendance was better than expected.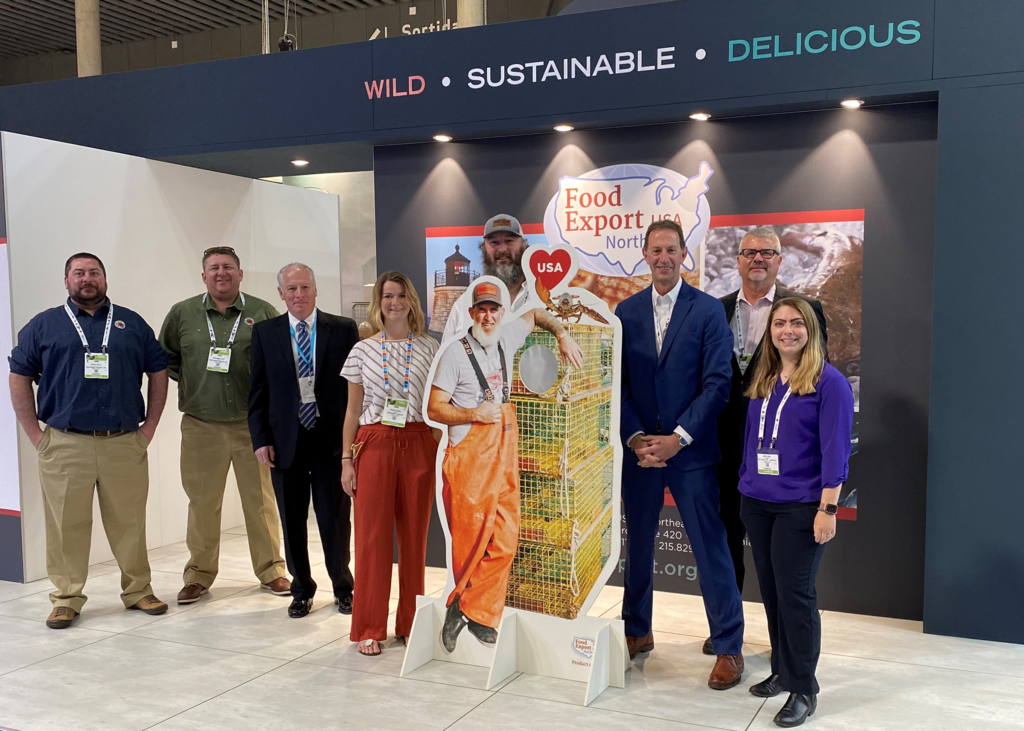 To assist Maine companies in the life science sector reach international markets, MITC has led a delegation to Düsseldorf, Germany for MEDICA, the world's largest and most prestigious medical technology and equipment show, for the past 15 years (with the exception of 2020 during the pandemic).  In 2022, the "Best of New England" booth included a record-high of 9 Maine companies – with 6 of those companies exhibiting for the first time at this show – as well as Bioscience Association of Maine (BioME).  International visitors to the booth included companies and individuals from Germany, UK, India, Canada, Turkey, Italy, France, England, Japan, South Korea, South Africa, Australia, Israel, UAE, Saudi Arabia, and Poland. In addition, MITC staff held meetings with 6 international companies that are interested in moving their operations to the United States during the show.
Defense Industry Maine (DIME) is an initiative of Maine International Trade Center established to help Maine companies diversify both within and outside of the defense industry.
MITC Director of Trade Services Adrian Horn was nominated and accepted the Co-Chair position for New England Defense Industry Collaboration (NERDIC) working with Adam Boltik from New Hampshire. NERDIC is a unique entity which coordinates the growth of defense-related businesses across the six states within the New England region. NERDIC focuses on an approach built around collaboration and multidisciplinary solutions to address the challenges identified by the New England defense manufacturing sector. In late 2022, NERDIC held its first quarterly meeting since the pandemic and since receiving the new $1 million federal grant from Office of Local Defense Community Cooperation (OLDCC).
In collaboration with Maine DECD, DIME attended the Southeastern New England Defense Industry Alliance (SENEDIA) conference "Defense Innovation Days 2022" with a focus on building out the defense ecosystem for submarines and creating a cluster of defense, research, education, and manufacturing for Maine, New Hampshire, and Vermont.
In 2022, DIME traveled to Montreal, Quebec to represent Maine at Aero Montreal – one of the largest global aerospace industry gatherings in North America. Meetings held included directors of Bell Defense systems, Bombardier Defense, the Canadian Air Force 3rd Space Division, the Canadian Army, and the Consul General of the Czech Republic. In addition, DIME presented the Loring Commerce Centre to the Montreal aerospace cluster as a low barrier, easily accessible option for aerospace work in Maine.
To bring international insight, DIME became an active member of the Advisory Committee for Maine Space 2030 last year. A space port will help to attract international investment from aerospace companies and create some of the highest paying jobs in the manufacturing sector up and down the value stream from R&D to human resources. In addition, Maine Space 2030 is important to DIME because of the significant overlap in defense and aerospace companies and the proximity to the Montreal global aerospace hub.
Invest in Maine is an initiative of MITC and Maine Department of Economic and Community Development (DECD) established to promote job creation and growth through overseas business attraction.
While interest from Italy remained strong in 2022, with as many as 12 company meetings held at a single event sponsored by the SelectUSA office in Milan, there were several new developments in the foreign direct investment area. Working with the Korean Office of Investment and Trade spurred interest from potential investors in the biotech and forest products sectors. The Roux Institute's new Techstars Accelerator program resulted in two companies from Chile launching operations in Maine. Additionally, increased collaboration with the Governor's Energy Office is helping open doors for small Canadian energy companies in search of partners and investment opportunities in the state.
Last year, a new investment attraction was produced and made available to MITC partners around the state, as well as posted on the Invest in Maine webpage. The key industry sectors featured are advanced materials and composites, food and beverage, forest products, and life sciences.
In 2022, Maine Army National Guard's long-standing relationship with Montenegro's armed forces expanded to include the private sector. Digital Den, an early-stage incubator, visited Denver, Phoenix, Houston, New York, and Portland in February with 10 of their companies to see models of how organizations assist young companies in their growth, and to learn about different pathways to establishing a US presence. MITC collaborated with the Maine Center for Entrepreneurs (MCE) and the Maine Army National Guard to ensure a productive visit with a tour of the International Marine Terminal, as well as meetings with The Roux Institute, Maine Technology Institute (MTI), The Savatteri Law Firm, Maine Angels, and the Foster Center for Innovation at University of Maine. These relationships continued to develop through visits to Montenegro by the Maine Army National Guard and MCE and a return trip by Digital Den leadership to Portland in December.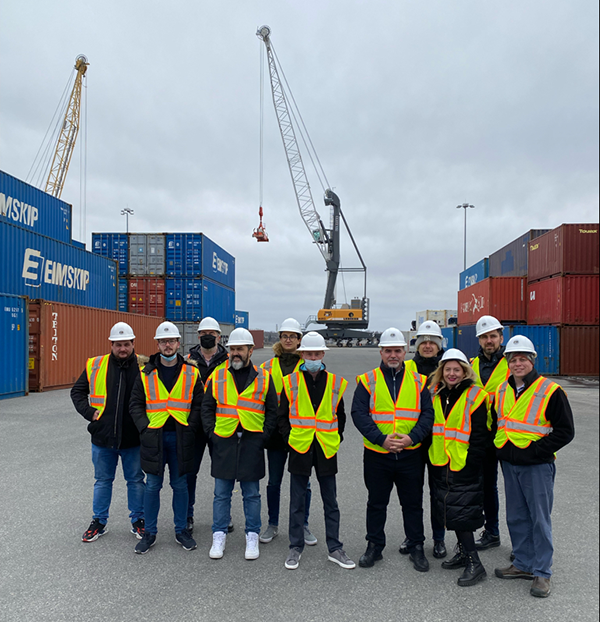 Copenhagen-based Adapt Agency is aligned with the United Nations Sustainable Development Goals (SDGs) in developing better digital experiences through sustainable and accessible websites, marketing campaigns, and e-commerce solutions. In 2021, the company chose Portland for its US office location because of the state's "incredible community and appreciation of Earth's natural resources." MITC recognized Adapt Agency as our 2022 Foreign Direct Investor of the Year. Since the relocation to Maine, the company has increased revenue and net income 200%.
The Maine North Atlantic Development Office (MENADO) at MITC connects Maine businesses and institutions with opportunities in the North Atlantic and Arctic regions and facilitates introductions for international partners in the region looking to innovate or locate in Maine.
MENADO led efforts to bring the annual US-Greenland Joint Committee Meeting to Maine in October 2022. This high-level diplomatic meeting, hosted by the US Department of State and the Government of Greenland, sought to strengthen ties in four primary areas: trade and investment, energy and mining sector cooperation, educational and cultural cooperation, and scientific and environmental cooperation. MENADO coordinated a US-Greenland Transportation Roundtable at the Port of Portland to explore how the group can support more business between Portland and Nuuk, leveraging the weekly Maine-Greenland ocean transportation service we have in place with Eimskip and Royal Arctic Line. In addition, MENADO hosted a group dinner and a networking reception and organized meetings for visiting business delegates with Maine food/beverage/consumer products suppliers, a clean energy tech business, engineering and business consulting professionals, a lumber and building materials supplier, and an outdoor recreation retailer, among others.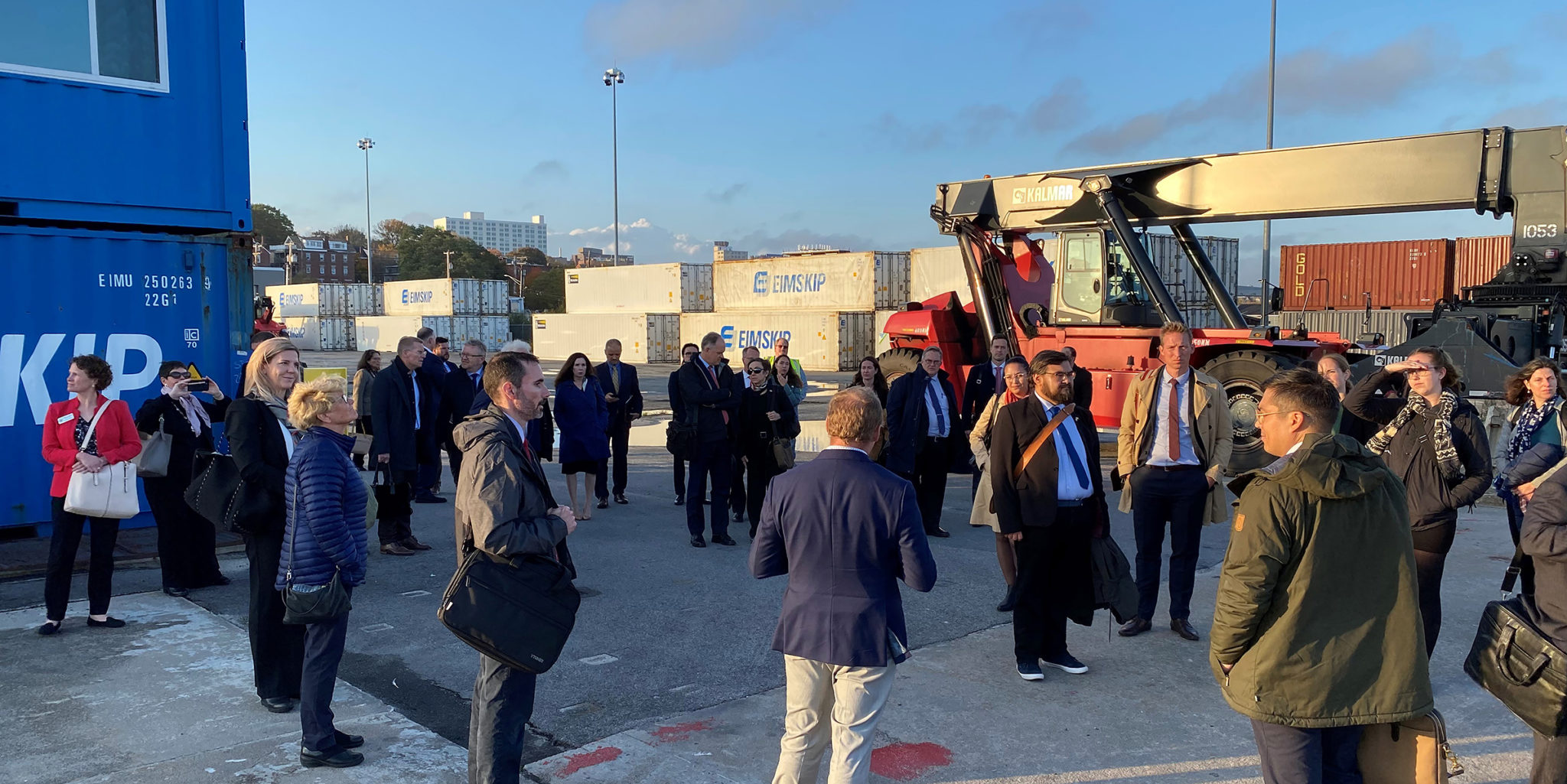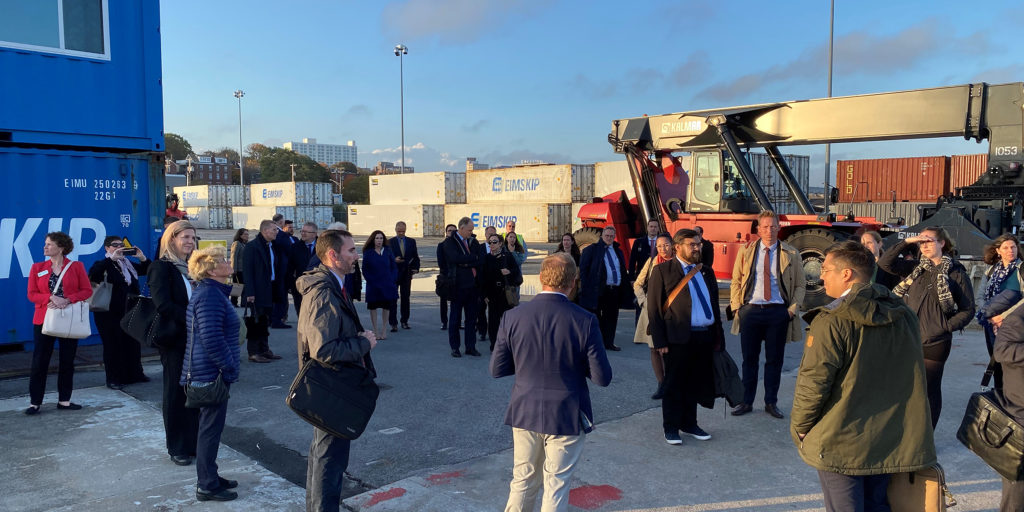 During 2022, MENADO continued to lead efforts under the MOU signed between Maine and Finland in 2019 that enhances forest sector collaboration. Working with state and Finnish government partners on this project, MENADO has co-developed several joint events over the years including forest bioeconomy webinars, round table discussions and fire-side chats, a joint presentation at the prestigious SXSW festival, and a virtual trade and study mission that facilitated over 50 B2B meetings and discussions in the forest sector. With the addition of Michigan in 2021, the overall objective is to have collaborative research and development projects funded and underway in the first quarter of 2023. The Finland-Maine-Michigan Forest Bioeconomy Collaboration formed around five working groups: Advanced Wood Construction, Forestry/Smart Forestry, Biorefining, New Value-Added Products (cellulose materials and other products), and Policy Innovation. In addition, MENADO is organizing a Bioeconomy Trade and Study Mission to Finland in 2023.
MENADO supported a delegation of 41 Mainers for business development meetings and to attend sessions and private events at the 2022 Arctic Circle Assembly in Reykjavik in October. This year's delegation included business professionals, academics, students from 6 Maine colleges and universities, scientists, artists, representatives from two fine art museums, and investors. In partnership with museums in Iceland and Sweden, the Portland Museum of Art hosted a preview opening of their "Down North" exhibit at the Reykjavik Art Museum for Arctic Circle Assembly guests. MENADO hosted a Maine delegation meeting at Iceland's Ministry for Foreign Affairs where Maine and Iceland discussed trade and collaboration priorities, and Iceland's Foreign Minister Thórdís Kolbrún Reykfjörd Gylfadóttir addressed the delegation.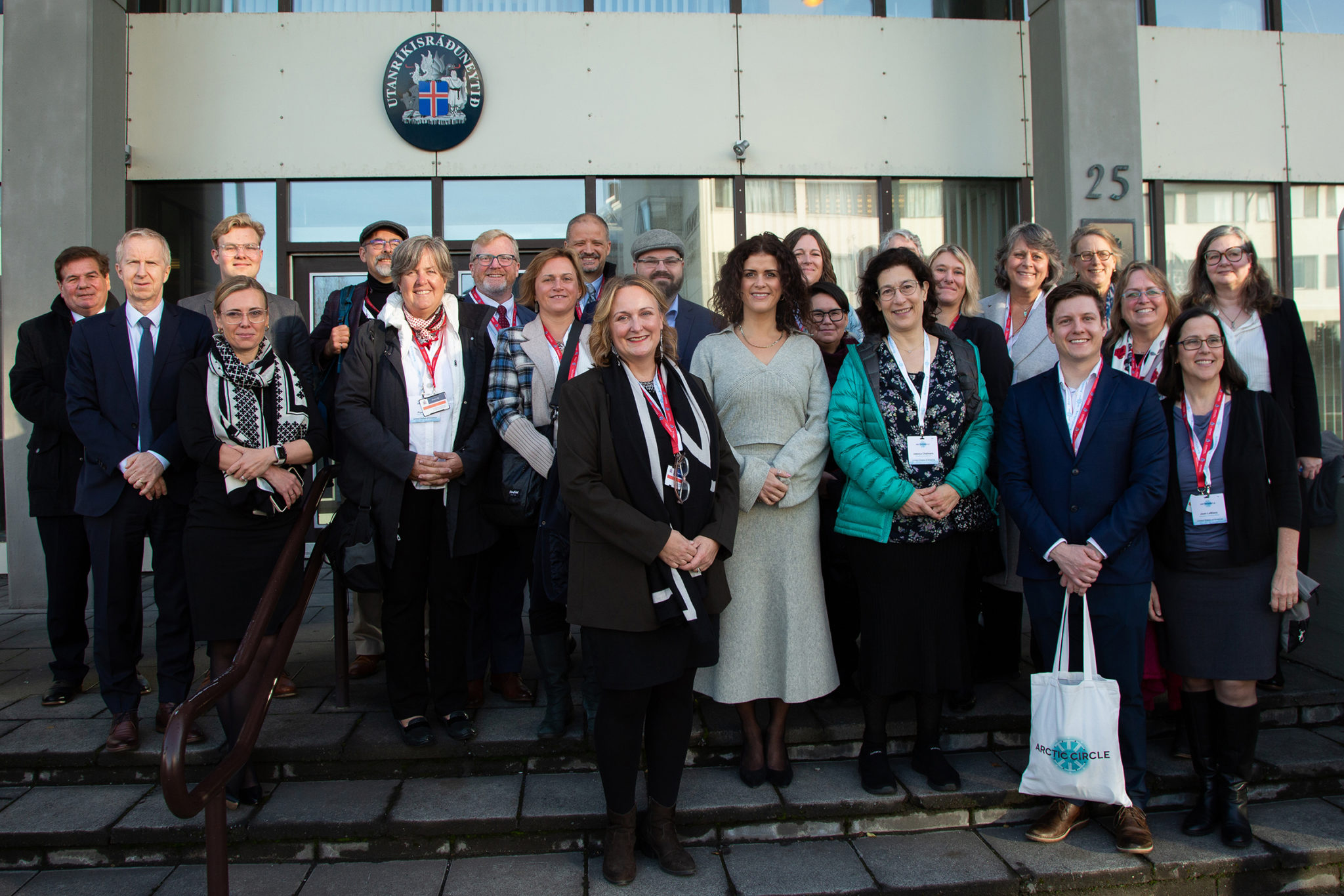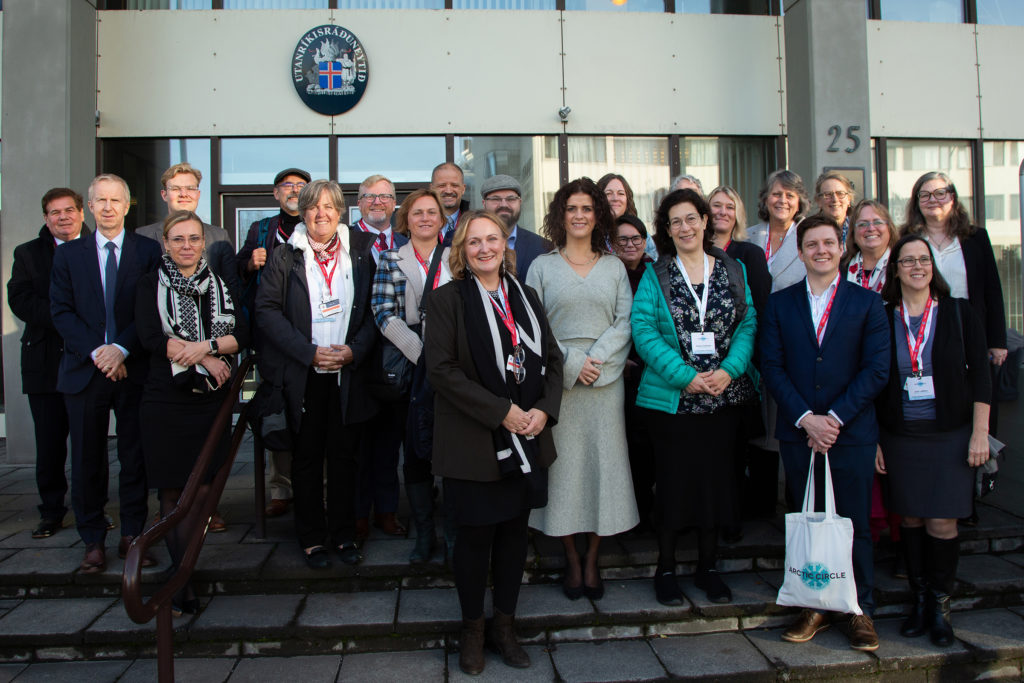 Offshore Wind Global Supply Chain
In 2022, MITC continued its engagement with the State of Maine's Offshore Wind Roadmap initiative, contributing expertise and guidance to the project, which is led by the Governor's Energy Office. With our work focused on the economic development aspect of this emerging industry, MITC has developed a strategy for supply chain access for Maine businesses. 
In February 2022, consultant Josh Rosen completed an operational strategy "Getting Ready for Offshore Wind" to enhance the work of the Roadmap committee. XODUS Group, a Boston and UK-based consulting firm selected in the fall, will execute the strategy in collaboration with MITC. In addition, MITC benefited from the expertise of US Coast Guard detailee Aaron Davis, who spent six months working alongside the team as part of an industry training program, on this project.
MITC participated in offshore wind forums in Portland and Providence, as well as industry related sessions of the Arctic Circle Assembly in Reykjavik. These forums provided useful opportunities to learn about the rapidly growing industry and bring this global expertise and perspective back to Maine businesses with experience and opportunities in the sector.
MITC's StudyMaine initiative is a statewide consortium of Maine high schools, colleges, and universities that was created to promote Maine as a top US education destination to potential students, parents, and education agents around the world.  StudyMaine works in collaboration with the US Commercial Service (USCS) Portland office to organize education missions (outbound and inbound) and participate in StudyUSA social media marketing campaigns.
During 2022, in response to the war in Ukraine and inquiries from USCS colleagues posted there, StudyMaine surveyed member schools across the state on the potential intake of Ukrainian students – ideally at fully financed status – to determine placement options that Maine would be able to offer. Three Maine educational institutions responded to the call and were willing to take in up to a total of 11 students. Ultimately, as a result of this pro-active outreach to the StudyMaine network, one Maine school accepted 4 students from Ukraine.
In late September, a Reverse Education Mission brought 11 education agents from Mexico and Ukraine to Maine. In collaboration with USCS, StudyMaine organized the 4-day mission, which included visits to 10 high school and college/university campuses across the state. A farewell reception was held on the final day where additional schools that were not able to host campus tours for the agents were invited to attend.